The South Africa Football Association (SAFA) has confirmed that the Bafana Bafana delegation will fly into Lagos on Wednesday, and would immediately connect a flight to Uyo for the African Nations Cup encounter to be held at the Godwill Akpabio International Stadium.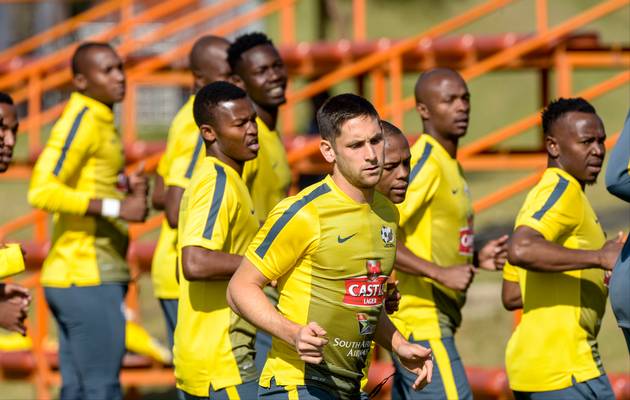 The last outing between the two teams was a friendly match at the Mombola Stadium, Newspring, two years ago, which ended 1-1.
The Super Eagles have been urged to begin well by beating their opponents this Saturday in Uyo.
General Secretary of the Nigeria Football Federation (NFF), Dr Sanusi Mohammed, who gave this charge, said a lot is expected from the Super Eagles, considering their current form and support from Nigerians and the government.
"They must realise that it is not over until it is over. They should take all the games as they come. Our focus now is to make sure we beat South Africa and after that we think about Cameroon," said Mohammed.
The Nigeria versus South Africa match at Uyo begins at 5pm this Saturday.
Meanwhile, all invited Eagles players participated in Tuesday's training sessions, ahead of Saturday's clash, as the race for the 2019 Africa Nations Cup, to be hosted by Cameroon, hots up.
Ogenyi Onaze and Ahmed Musa are expected to lead the team in the absence of the Captain of the team, John Mikel Obi, who is not listed for the tie due to injury concern.
In a related development, Manchester United has replaced Champions League winners Real Madrid as the world's most valuable football team, according to the annual list published by Forbes on Tuesday, June 6, 2017.
United is valued at $3.69 billion (£2.86 billion) and returned to the top of the annual list for the first time in five years, an 11% jump compared to last year.
Spanish club Barcelona is second with a worth of $3.64 billion (£2.82 billion) as Real Madrid $3.69 billion (£2.77 billion) were down to the third, after four years lead.
Rounding out the top five is Bayern Munich $2.17 billion (£2.1 billion) and Manchester City $2.08 billion (£1.61 billion).
Other English teams in the top 10 are as follows: Arsenal $1.95 billion (£1.5 billion), Chelsea $1.85 billion (£1.43 billion), Liverpool $1.4 billion (£1.15 billion) and Tottenham $1.06 billion (£821 million).
Forbes Media Assistant Managing Editor, Mike Ozanian, said in a statement that Manchester United's returned to the top spot is a testament to its powerful brand and marketing acumen.
By Felix Simire