"Climate of Change," a play that depicts the impact of climate on rural folks, has won the third prize in the Drama Category at the recently-held Association of Nigerian Authors (ANA) Convention in Uyo, Akwa Ibom State.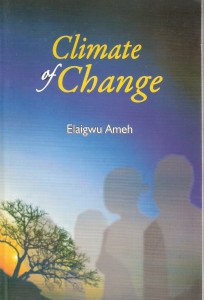 According to Elaigwu Ameh, the writer of the play that has been published as a book, Climate of Change also got high commendation from ANA for its presentation "of the complex and often scientifically abstract climate change issue in a simple, educative and entertaining way."
Ameh added: "As a result of the prize, some ANA chieftains have called for more readings and performances of Climate of Change across the nation in order to spread the climate change message to more people.
"I want to express my sincere gratitude to the Federal Ministry of Environment (FME), Africa Adaptation Programme (AAP), United Nations Development Programme (UNDP) and JICA for using Climate of Change to elucidate and accentuate the plight of a plurality of poor rural dwellers in Nigeria, who livelihoods are maligned by the variability and unpredictability of climate.
"This award and widespread publicity for a cause that is dear to you and me would not have been possible without your generous and proactive support."
The play is a snapshot of rural dwellers' struggle for survival and integral development in a climate-constrained world. It takes the reader or audience on a journey into the lives of rural dwellers, while portraying their apprehension, courage, despair, hope, flaws and strengths.
By emphasising the linkage between climate change on one hand, and then gender, health, politics, conflicts and food insecurity on the other, the play seeks to draw attention to the fact that climate change is indeed one of the defining challenges of our time and must not be treated with levity, according to Ameh.
On why the UNDP/AAP is supporting the initiative, Muyiwa Odele of the Sustainable Development Unit of UNDP Nigeria submitted: "UNDP recognises that Art has a crucial role to play in changing society. Since behavioural and attitudinal changes are some of the keys to tackling climate change, this stage play is just natural.  The play will not only engage everyone in a deep way but also in a personal way."