The US Secretary of State, John Kerry, says America remains committed to implementing the Paris Climate Agreement, even as he described the document as the product of years of hard labour that cannot be allowed to erode.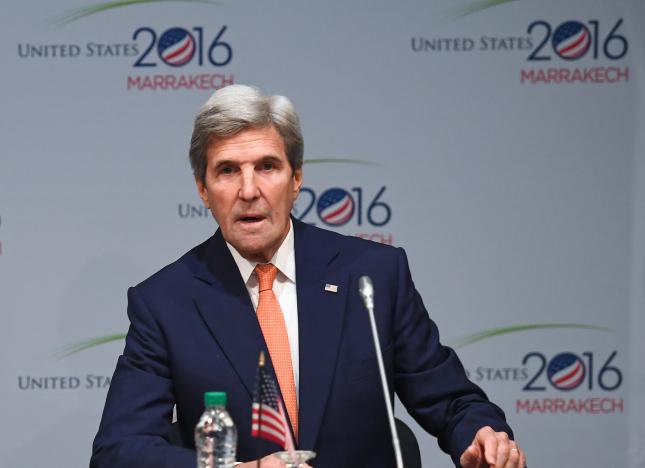 The Paris Agreement was the final document of the 21st edition of the COP in Paris, France last year, adopted by consensus of the 195 UNFCCC participating member states and the European Union to reduce emissions as part of the method for reducing greenhouse gas.
As part of the agreement, developing countries were recommended to provide $100 billion funding annually to assist developing countries – who are more vulnerable to impacts of climate change despite not contributing to the problem – to implement projects for mitigation and adaptation.
Addressing a conference on Wednesday, November 16 2216 at the ongoing UN climate change conference (COP22) in Marrakech, Kerry said in the past years, America had worked exceedingly hard in funding and developing innovative solutions to climate induced challenges, and was not going back.
"No one can deny the progress that we have made in the past. The progress we made today is beyond Paris. A few weeks ago I was in Kigali. Access to affordable energy is key. Time is not on our side," Terry said, as his remarks was greeted by a large applause in the conference room and others watching him at the US stand.
America's new president, Donald Trump, was quoted recently as saying that climate change was only a hoax and threatened to pull his country out of the landmark Paris Climate Agreement, a decision analysts claim would enable the country save $100 billion over eight years.
Kerry said the impact of climate change including severe flooding and other disasters which has cost America billions of dollars, have increased the vulnerability of many US masses, and that the necessary things must be done to protect them and others other countries.
He warned that leaders should not play politics with the scourge because climate change is indeed real and its impacts ravaging people across the globe.
"Climate change shouldn't be a partisan issue. About 109 countries representing global emission agreed to tackle the issue. We should act in diverse ways, including deploying infrastructure and science as well as technology to help vulnerable people," he remarked.
John Kerry said the role of the private sector in driving solutions to climate change is important. But he warned that while the private people are needed in funding, political leaders themselves must be committed for the desired result to be achieved.
"Government leadership is critical in protecting the environment and tackling climate change. We should do what is required, he said."
Some parties who watched Kerry speak said they were concerned he might be speaking from the point of view of President Obama, which obviously could be contrary to the decisions of the president elect, Trump.
But for a country that ranks second after China in global greenhouse emission, actors from developing countries feel that if America pulls out of the Paris Agreement as Trump threatened, it would be a big moral disservice to developing countries whose development is threatened by climate change which they did not have a hand in.
U.S. Special Envoy for Climate Change, Dr. Jonathan Pershing, had said on Tuesday during a COP22 news briefing that the Paris Agreement is inclusive and ambitious in solving world's greatest environment disaster, but the decision is that of the new government in his country to make.
He said, "As we all know, soon we will see a transition to a new presidential administration in the United States. In the coming weeks, we expect personnel from the transition team to arrive at the State Department and begin planning the shape and thrust of American diplomacy for the next four years. At this time, I do not have information about when that process will start or who will play a role in it, and I cannot speak for the President-elect's team, or to their outlook on international climate policy.
"What I do know, however, is the power of the movement and the enormous momentum created in Paris and built throughout the year since. Parties are deeply interested in seeing this work bear real fruit. With the Agreement having entered into force, it is no longer a question of whether to accelerate the Agreement's implementation – but rather a question of when and how.
"The Paris Agreement protects economic growth and the environment, all while providing nationally-determined flexibility to accommodate differing circumstances. It is durable. It is inclusive. It is ambitious. I will finish by noting that it was a global effort that made the Agreement possible. And the passion and the dedication that drove it are in evidence throughout COP22. Heads of state can and will change, but I am confident that we can and we will sustain a durable international effort to counter climate change."
By Innocent Onoh