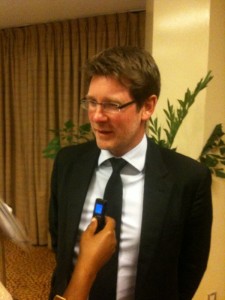 Oil producing countries in Africa have been urged to partner on climate change. This will provide the synergy needed to promote acceptable international best practices in oil production and services across the world.
The French Minister of Development, Pascal Canfin, stated this recently in Abuja at a dinner during a working visit to Nigeria on environmental issues and innovative finance.
"Nigeria can initiate a platform to work with other oil producing countries in Africa. By doing this they can set achievable objectives on gas flaring and oil spills to, say, achieve a 50% reduction in a given year," he stated.
Describing climate change as critical to national and international development, Canfin said climate partnership in Africa would project the continent's commitment to issues of climate change in view of the 2015 Climate Change Conference scheduled to hold in Paris.
"My mission in Nigeria is to discuss climate change because France is going to host the big conference (COP21) in 2015 where we are supposed to find decisive global climate agreement. The COP21 is a very important responsibility and is one of the top priorities of the French diplomacy. So we are starting to work on that and we want Nigeria to be a key partner for us in this process."
The minister also shed light on innovative finance, saying that it was a project aimed at finding new sources to finance development.
He said: "We are working with Nigeria and 40 other countries across the world to have commitments in order to implement new mechanisms to finance spending in terms of healthcare, education and to fight poverty, etc. It is development taken in a very broad sense but dedicated and focusing on local communities. France took a lot of decisions on innovative finance.
"For instance, we decided to tax on our financial transactions in Paris and we allocate 15% of this tax to finance fight against poverty in developing countries. We are able to finance free access to health care for five million people in the Sahel region, Senegal, Chad, Niger and Mali. France is the very first country to take such step in the world."
In the same vein, the Ambassador of France to Nigeria, Jacques Chanpagne De Labriolle, disclosed that his country was working to reinforce relations in every field of bilateral engagement with Nigeria.
"The issue of development and climate change are issues that are very important to everyone in the world. This is what we call global issues. And because they want to work more closely in the future, France and Nigeria are trying to work together on issues of climate change."
De Labriolle said France remained committed to the fight against climate change and was willing to support Nigeria in that regard. He remarked that he also believed that the outcomes of oil production such as gas flaring in the Niger Delta area of Nigeria can be managed to provide electricity for that region.
"We have realised that one of the group of countries that can help the international community to work together is the group of the oil producing countries, as part of the problem of the oil producing countries is that there is associated pollution. And as they have an important income from oil we believe that they should get together to address the consequences of climate change linked to those entire phenomenon that are provoked by the use of hydro-carbon," he concluded.
By Nkechinyere Itodo