The Director General/CEO, National Biosafety Management Agency (NBMA), Dr. Rufus Ebegba, has said that the NBMA ACT 2015 is strong enough to ensure a robust biosafety system for Nigeria.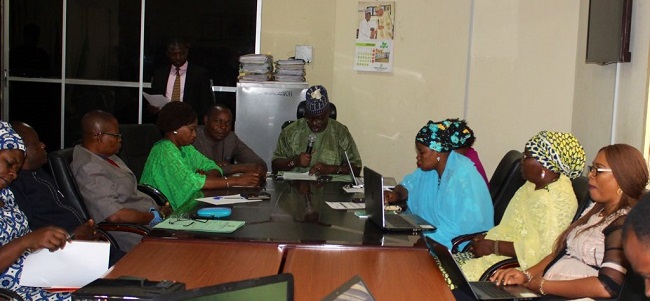 Dr. Ebegba said at an interaction with Clerks of relevant committees of the National Assembly on Monday, February 11, 2019 in Abuja that the Act establishing the agency was not cast in stone, adding that it is a living document that needs to be tested.
The meeting was organised to give Clerks, who are regarded as the engine room of the Assembly, an opportunity to understand the role of NBMA in national development as well as enhance their capacity and understanding on biosafety.
According to him, the sensitisation meeting for the Clerks is an important session which will help to educate them on issues of biosafety because they are permanent staff of National Assembly that advice the legislators.
"This interaction will help them to understand the Laws of Biosafety as well as to help the Agency to initiate amendment of the NBMA Act when necessary," Ebegba stated.
The DG/CEO appealed to the clerks to continue to exact expedient action on the need to rid the country of unapproved GMOs and ensure that the agency is properly positioned to police any attempt to turn the country into a dumping ground for unregulated GMOs.
In a presentation, Mr. Eric Makwe, Clerk, House of Representatives Committee on Environment and Habitat, narrated the processes of lawmaking in Nigeria and how Acts and other laws of the federation can be amended.
According to him, the Clerks play vital roles in the passage of bills, adding that without vital information and understanding, the clerks will be handicapped when issues of biosafety surface on the floor of the Assembly.
NBMA Director, Environmental Biosafety and General Release, Ms Chinyere Nzeduru, said that the role of the agency is to ensure that the practice of modern biotechnology does not pose any threat to human or the environment.
The interaction, which saw the Clerks visiting the agency's GMO Detection and Analysis Laboratory, also witnessed the presentation of papers including one on emerging techniques in modern biotechnology and safety techniques by Dr. Mathew Dore, Country Coordinator, Programme for Biosafety Systems (PBS).