The Umaru Musa Yar'adua University (UMYU), Katsina in collaboration with the European Union (EU) said on Thursday, May 16, 2019 it planted over four million tree seedlings from 2014 till date.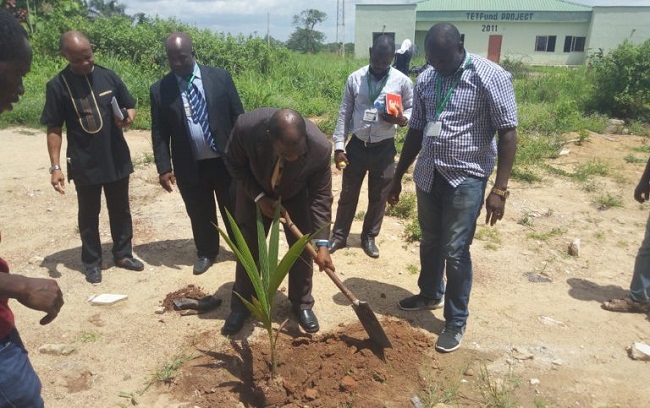 The project administrative secretary, Mr Abubakar Tanimu, disclosed this during an interview with the News Agency of Nigeria (NAN) in Katsina, the Katsina State capital.
Tanimu said that the seedlings were raised under the EU grant project on sustainable development of farm agro-forestry and fuel wood conservation system in Katsina.
"The seedlings were raised through over 2,000 private nursery owners selected from Batsari, Batagarawa, Jibiya, Kaita and Rimi Local Government Areas.
"We trained the nursery owners and offered tree seedlings to them free of charge, which they planted.
"They drilled boreholes at their various nursery sites to enable them nurse the trees to maturity,'' the project official said.
He revealed that after the seedlings were matured, the project officials buy the seedlings at a rate between N30 and N100 depending on the economic value of a particular tree.
The administrative secretary said that after buying seedlings from the nursery owners, they asked farmers to go the nearest nursery and get the seedlings for planting in their farms free of charge.
Tanimu said that the project opened processing centres for trees that had economic value and trees that are going extinct, just to encourage farmers to plant and nurse such trees on their farms.
He said that the university fabricated machines that processed the fruits of such trees in those areas.
"This initiative has encouraged farmers to safeguard trees on their farmlands.
"In order to further promote the afforestation concept, the University fabricated machines that produced efficient mud stove to discourage people from felling tree for firewood.
"As we speak, the centre has produced thousands of mud stoves that use limited number of firewood,'' Tanimu disclosed.
He said that during the period under review, the university had produced thousands of such mud stoves which were sold to people in the state.
The administrative secretary added that the mud stoves were sold in Jigawa, Zamfara, Kebbi, Sokoto, Yobe and Borno states; each stove was sold at N500.
Tanimu urged people to continue to inculcate the habit of tree planting, and to desist from indiscriminate felling of trees to prevent desertification and other related soil degradation.
By Zubairu Idris