The Federal Government said in Abuja on Thursday, July 2, 2015 that its Intended Nationally-Determined Contributions (INDCs) to the UN Framework Convention on Climate Change (UNFCCC) would be submitted in September. Dr Samuel Adejuwon, the Director, Climate Change Department, Federal Ministry of Environment, who made this disclosure, said that Nigeria was taking its time to develop solid INDCs that would help address the impact of climate change without jeopardising its quest for development.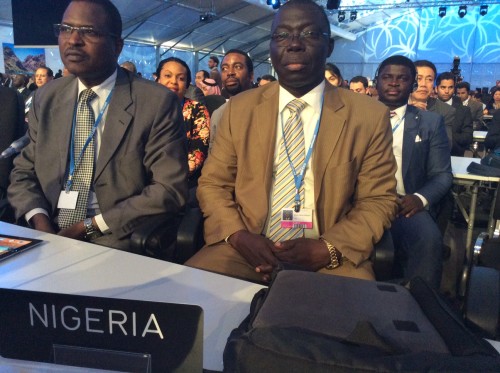 He said that the ministry would look at the country's economic and development interests while developing the INDCs.
"The whole exercise (INDCs) will consider some priority sectors, look at the baseline and look at our needs too for development and see what we can put on the table that we are going to strive to mitigate in terms of Green House Gases. And it is not something you just rush into without understanding because you are never too sure whether the potential agreement in Paris will be legally binding," Adejuwon said, adding that Oct. 1 had been fixed as the deadline for countries to submit their INDCs to enable UNFCCC to study the documents before the Conference of Parties (COP) 21 in Paris in December.
According to him, the requirement for countries to submit their commitments ahead of the conference is to see if they will be able to address the impact of climate change. The director, however, said that the ministry had held series of workshops to fulfill its commitment to climate change conventions and protocols as well as exploit opportunities as a party to the protocols.
He said that the country had also looked at ways of taking advantage of some funding opportunities available such as the Special Climate Change, Adaptation and Green Climate Funds.
His words: "When you see funds, to access it can be problematic. And that is part of the negotiation and that is part of what we use to do in negotiations that you (developed countries) are creating these funds then you put a condition that makes it very much difficult to access. Look at the Adaptation Fund, it was part of Kyoto Mechanism; before you can access it, you need to identify National Implementation Entity. We've been in this process of identification of National Implementation Entity for the past three, four years. By the time you solve this problem, they will come up with another issue and if you don't fulfill that condition, then it becomes very difficult for you to access."
Adejuwon, however, explained that there was the need for the Federal Government to put some structures on ground before these funds could be accessed. He, therefore, stressed the need for government to invest in research, designs and mappings as a means of reducing the impacts of climate change on the country.
"There is the need for government to look at climate change from another perspective and be proactive. For example, looking at the 2012 flooding, we should map our flood plains in Nigeria and see how vulnerable they are to the impact of climate change. After identifying the vulnerability, we also need to put other things in place to minimise the impacts of the climate change," he said.
INDCs are a requirement to be submitted by all parties to the UNFCCC as a major component to climate change treaty to be adopted in Paris later in 2015.