At the Asia-Pacific Climate Week (APCW) that held from September 2 to 6, 2019, experts examined ways to raise regional and global ambition to tackle climate change, with countries in the region showcasing their efforts to implement climate action in the energy, transport, agriculture, water and waste management sectors.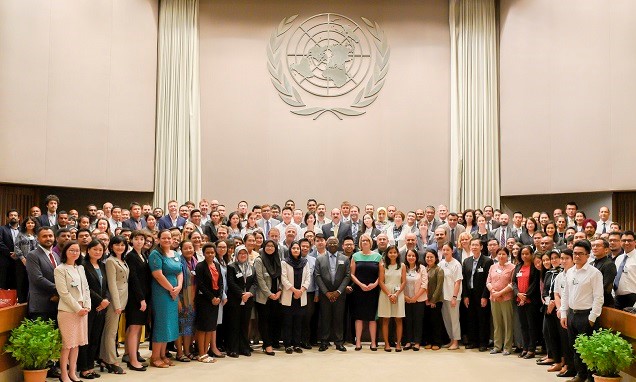 These initiatives, which stem from the countries' Technology Needs Assessments (TNA's), are at the heart of national climate action plans under the Paris Climate Change Agreement, known as Nationally Determined Contributions (NDCs).
APCW host Thailand, for example, has responded to rising concerns about the sustainable management of natural resources, the liveability of cities and an increasing reliance on imported fossil fuels to meet its energy needs, by identifying the waste sector as one of the main priorities in its latest TNA, with two greenhouse gas (GHG) mitigation options in waste management and waste conversion to energy respectively.
The Assessment also identified mass transit transport and traffic management as options to cut greenhouse gas emissions. Both the waste and traffic sectors have a broad range of benefits that could reduce energy consumption and environmental challenges in cities.
Based on these TNA priorities and with a project preparation grant from the Global Environment Facility (GEF), Thailand Greenhouse Gas Management Organisation (TGO) developed a project titled "Achieving Low Carbon Growth in Cities through Sustainable Urban Systems Management in Thailand", with a strong focus on waste management and sustainable transport, as well as capacity building. The overall goal is to reduce GHG emissions from cities and promote sustainable urban systems management.
In 2016, United Nations Development Programme (UNDP), TGO and three municipalities began implementing the project with $3.15 million in funding from the GEF Trust Fund and $182,301,010 in co-financing from the three participating municipalities. The project will run until 2020.
Looking at the waste, transport and energy efficiency sectors, the project started in four major cities with the formulation and implementation of a low carbon plan, the establishment of energy efficient urban demo systems and investment in energy efficient urban systems by the government and the private sector.
The estimated GHG emissions reductions are 186,500 tCO2e, along with improvements in public transport, waste management, air pollution and water supply. The project is further expected to catalyse new investment of $16 million.