A non-governmental organisation, the African Centre for Climate Actions and Rural Development (ACCARD), on Tuesday, August 31, 2021 commenced the PAD Projects (P: Plant a tree, A: Adopt a tree, D: Donate a tree) at the Federal University of Petroleum Resources, Effurun (FUPRE) in Delta State as part of the Green Niger Delta Initiative launched on June 25, 2021, which is being implemented in collaboration with the World Bank, Nigeria REDD+ Programme, and the Climate and Sustainable Development Network (CSDevNet).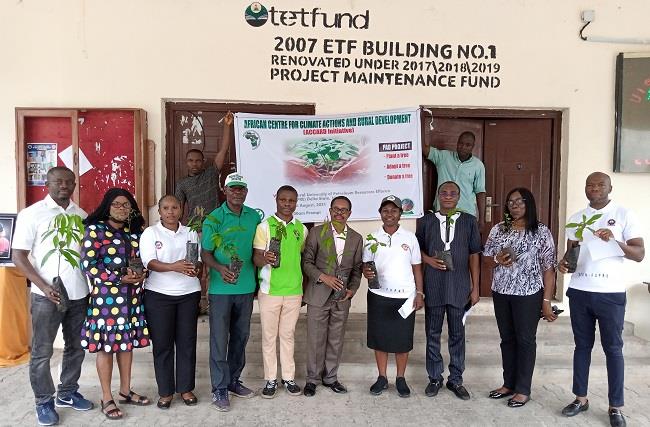 According to the Founder and Centre Coordinator for ACCARD, Freeman Elohor Oluowo, the project is a collaborative effort aimed at promoting environment and climate change awareness, sustainable green development, benefits of tree planting as well as developing local responses to the climate emergency.
He believes working together particularly with the different stakeholders including indigenous people and higher institutions of learning, will help to accelerate climate solutions.
The Vice Chancellor, FUPRE, Prof. Akpofure Rim-Rukeh, represented by Prof. Ajuwa Christopher, the Deputy Vice Chancellor Administration and Prof. Christopher Izelu, Deputy Vice Chancellor Academic, thanked ACCARD for maintaining a fruitful collaboration with the university.
The collaboration hosted several events including the Niger Delta Climate Conference and Regional Pre-COP meeting, United Nations (UN) Youth events, Annual Capacity Building Workshops for Women in Climate Change Management and Community Development, among other community response programmes.
The high point of the event was the tree planting and adoption exercise with the commitment to nurture it to maturity. Prof. Christopher delivered the assurance of the Vice Chancellor's commitment to care for the over 80 trees in this first phase, by directing the establishment of a horticultural unit and having the works department to protect the sites.
He announced the university management's approval of ACCARD's request for a botanical garden – managed by ACCARD and two other environmental outfits in the university.
Oluowor said: "Climate change is still one of the greatest threats of our time. It affects everyone and everything with devastating effect on man's livelihood. The frequent and catastrophe occurrences of climate events such as flooding, hurricane, earthquakes across the globe is a clear indication that the world is under a climate emergency and underscores the need for a more coordinated efforts and deployment of nature-based solutions in addressing some of these problems locally."