Residents of Obasanjo Road in Dutsen Sagbagyi II of Bwari Area Council in Abuja have called on authorities of the Federal Capital Territory (FCT) and Bwari Area Council to save them from being cut-off from other parts of the FCT.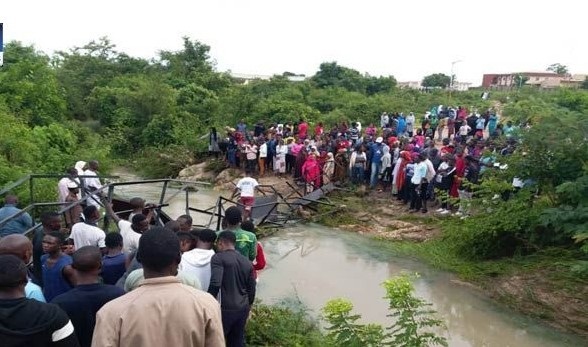 Some of the residents made the call while speaking with the News Agency of Nigeria (NAN) on Monday, August 19, 2019 in Abuja.
They said the call had become necessary as the three bridges connecting the community to old Bwari Road and other parts of the FCT had collapsed.
This followed a heavy downpour which started in the early hours of Monday that left majority of residents who work and do businesses outside the community stranded, as neither cars nor motorcycles could freely ply the road.
It had also been a herculean task for residents to trek out of the community through the deep valleys and heavy flood of waters created by the rains.
Obasanjo Road Community, officially called Dutsen Sagbagyi II, is situated on a mountainous layout behind Dutse Baupma, off Dutse-Bwari Highway, in Bwari Area Council of the FCT.
The community is comprised of five different layouts and settlements, which include Freedom Avenue Layout, Anglican Street Layout, Obasanjo Road Layout, Mountain Side Layout and New Layout.
Since inception, residents of Obasanjo Road Community had shouldered the responsibility of the construction, repairs and maintenance of the major link roads.
They have also been responsible for fortifying the bridges, opening up new roads as well as buying transformers for the community and providing security through communal efforts.
Mr Isa Mohammed, a resident of the community, said it had been made a reference point as far as rural planning, orderliness and peace was obtainable in modern society.
"Now, residents of the community find it hard to swallow the reality that the road and bridges they laboured to construct and constantly maintained, had been destroyed by heavy flood.
"Residents are crying; they need Government intervention and help from private organisations and even individuals.
"If nothing urgent is done, the residents would be cut off permanently from the outside world and every business and economic activities would be grounded.
"Moreover, our children would not be able to go to school when schools resume in a matter of days," he said.
Another resident, Mr James Okechukwu, said it was disheartening to see efforts and resources that took years to build washed away.
He, therefore, appealed to appropriate authorities to come to their aid in reconstructing and fixing the bridges.
Another resident of the community, Mr Nicholas Uzor, described the development as a colossal damage, saying it would paralyse economic and business activities in the community.
He said it was unfortunate that past appeals made to relevant authorities to come to the assistance of the people of the community had not yielded any result.
"The bridges have been begging for better and stronger action to fortify them against heavy rains.
"Letters had been written to relevant authorities to come to our aid, as the costs required to fortify the bridges is beyond our power.
"On behalf of residents of this community, I join in calling on the Federal Government, Federal Capital Development Authority and Bwari Area Council to urgently come to the aid of this community.
"We also call on corporate organisations and individuals, such as MTN, which has one of its communication masts in the community; Dangote Group and the National Emergency Management Authority to come to our aid," he said.
By Emmanuel Mogbede