Guinness Nigeria Plc has commissioned a water health centre in Adigbe community in Ogun State, in an apparent bid to impact lives positively in communities where it operates.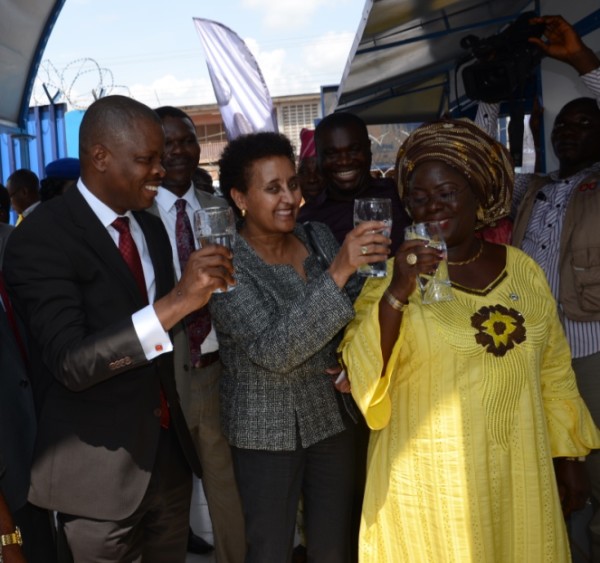 Situated within Abeokuta, the Ogun State capital, the facility was formally unveiled at a special commissioning event by the Deputy Governor of Ogun State, Yetunde Onanuga. The event was also attended by other key stakeholders including: the Acting Consular General of the United States Consulate, Dehab Ghebreab, representatives of Water Health International and members of Adigbe community.
The water facility consists of a borehole and an ultramodern water treatment unit, such that the water in the facility goes through a six-stage purification process to remove organic matter, excess chlorine, bad taste, dirt, unwanted materials, dissolved inorganic solids, bacteria and pathogens. The facility is capable of providing 2,700 litres of clean water hourly.
Speaking at the event, Corporate Relations Director, Guinness Nigeria Plc, Sesan Sobowale, said the construction of the facility is in furtherance of Guinness Nigeria's commitment to helping Nigerians access clean drinking water.
He said: "Many Nigerians still do not have access to clean drinking water; in response to this situation, we have leveraged our flagship 'Water of Life' programme to increase the number of Nigerians who have access to clean and safe water.
"Under the aegis of the 'Water of Life' programme, Guinness Nigeria has so far constructed water facilities in 22 communities across 14 states of the country. We are pleased to note that through these water projects, we have helped thousands of Nigerian families to access clean water, and ultimately improve their overall health and wellbeing."
Also speaking at the event, the Governor of Ogun State, Ibikunle Amosun, represented by his deputy, Yetunde Onanuga, praised Guinness Nigeria for implementing impactful programmes that help address the challenge of water shortage in Nigeria. She noted that the construction of the water facility exemplifies the positive results derivable from collaborations between corporate organisations and their host communities.
She said: "I congratulate Guinness Nigeria for its impressive sense of corporate responsibility in building this water scheme for our community. It is without a doubt, a project that will go a long way in addressing one of the crucial needs of our community. The people of Adigbe will never forget Guinness.
"Other corporate organisations should emulate Guinness Nigeria by making impactful contributions that enhance the wellbeing of communities through meaningful, result-oriented projects."
The Adigbe facility – the company's third in Ogun State – was implemented in partnership with Water Health International, an international organisation that provides drinking water to communities (primarily rural areas) around the world. The partnership between Guinness Nigeria and Water Health International will ensure the sustainability of the new facility.