Ukrainian Prime Minister, Denys Shmyhal, on Tuesday, June 6, 2023, said about 80 settlements were under threat of being flooded after the destruction of the Kakhovka Hydroelectric Power Plant in the Kherson Region.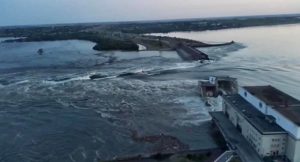 Earlier, the Russia-appointed mayor of the city of Nova Kakhovka, Vladimir Leontyev, told Sputnik that the upper part of the Kakhovka Hydroelectric Power Plant was destroyed by shelling. The city authorities said that the structure of the dam was partially destroyed.
Shmyhal on social media said "there is a threat of flooding of up to 80 localities .We are evacuating the residents of the flooded areas.''
The Ukrainian official put the blame for the destruction of the Russia-controlled power plant on Moscow.
"Russia bears full responsibility for this terrorist act. The world must respond immediately with action. Russia should withdraw its troops from the nuclear PP to avoid another disaster," Shmyhal twitted.
According to Leontyev, as of 10:15 a.m. (07:15 GMT), the water level in Nova Kakhovka has already risen by 10 meters (32.8 feet) and the dam continued to be washed away.
Ukraine has called for an urgent meeting of the United Nations Security Council to discuss what it termed a "Russian terrorist attack" on the Kakhovka dam in southern Ukraine.
It also said it wanted the UN nuclear watchdog's board of governors to discuss the incident and demanded new international sanctions on Russia, and in particular on the Russian missile industry and nuclear sector.
Ukrainian and Russian officials blamed each other for Tuesday's breach of the Russian-controlled dam, which prompted the evacuation of people living in the vicinity.
Ukraine's foreign ministry in a statement said: "we consider the Russian Federation's detonation of the dam a terrorist act against Ukrainian critical infrastructure, which aims to cause as many civilian casualties and (as much) destruction as possible.
"The terrorist attack on the Kakhovka HPP (hydroelectric power plant) was previously intensely discussed at the level of the occupation forces in the Kherson region (of southern Ukraine) and by propagandists on Russian television, which indicates that it was planned in advance."
The ministry urged the international community to condemn Russia over the incident and said Moscow should pay compensation for the consequences.
"We also appeal to the countries of the Group of Seven and the EU to urgently consider the imposition of new far-reaching sanctions on the Russian Federation and in particular, the Russian missile industry and the nuclear sector," it said.
A list of actions drawn up by the ministry includes the convening by Ukraine of an urgent meeting of the UN Security Council and bringing the issue of the Russian terrorist attack to the meeting of the IAEA (International Atomic Energy Agency) Board of Governors.
Ukraine also called for the European Union's Civil Protection Mechanism to be engaged.
A country can request assistance through the mechanism when facing an emergency.