The first-ever United Nations Global Sustainable Transport Conference ended on Sunday in Ashgabat, the capital of Turkmenistan, with more than 50 countries endorsing the "Ashgabat Statement on Commitments and Policy Recommendations,"' with a view to supporting cleaner, greener transportation – from local transit systems to worldwide multimodal networks.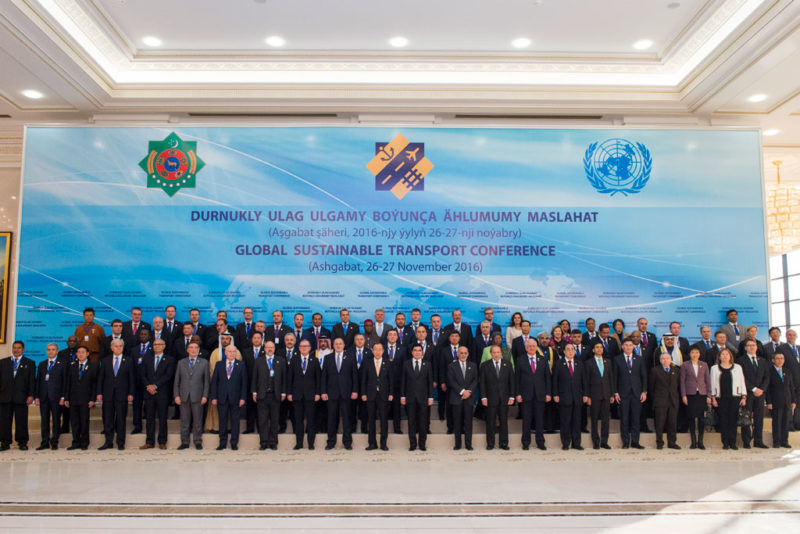 "The Conference has reinforced the importance of sustainable transport and has shown it is a shared global task," said Wu Hongbo, UN Under-Secretary-General for Economic and Social Affairs, at the closing ceremony.
"Sustainable transport solutions are key to leaving no one behind, securing prosperity, enabling access to services and protecting the environment," concluded Mr. Wu, adding that "without sustainable transport, there will be no lasting progress on climate action and the Sustainable Development Goals (SDGs)."
Noting the many encouraging success stories delegates had shared at the two-day conference, Mr. Wu said more needed to be done, including mobilising trillions of dollars in investments and implementing legal, regulatory and governance frameworks. He also underlined the need to continue and strengthen capacity-building to developing countries.
"We have identified areas for regional and international cooperation and shared far-reaching policy recommendations," he said. "We have, collectively and individually, identified concrete actions to move the world towards the new and essential paradigm of sustainable transport. Looking ahead, we must use our shared understanding to advance sustainable transport for all, by delivering on our commitments, forging new alliances and transforming our policies."
He added that policy decisions needed to meet the needs of all in a low-carbon manner, requiring integrating transport modes and tapping into technological opportunities to bring the fundamental, transformative changes.
Stakeholders endorse "Ashgabat Statement"
Concluding the two-day conference with the so-called "Ashgabat Statement," participants stressed the need to promote the integration of science, technology and innovation into sustainable transport systems by tapping into technological opportunities in the decades to come, in order to bring about fundamental, transformative changes to transport systems.
This, they said, can be achieved through the use of energy-efficient technology, as well as information and communications technology, as they called for strengthening capacity-building support to developing countries.
They also welcomed stakeholders who had developed and launched sustainable transport initiatives, and called on all stakeholders to continue to seek collaborative partnerships for new, innovative, sustainable transport paradigms.
Also during the closing ceremony, Igor Runov, UN Under-Secretary-General and Head of the International Road Transport Union, presented the summary of the Transport Business Forum, which had been held earlier in the day.
Three other events held on Sundy focused on transport safety, the needs of countries in special situations – mostly least developed countries – and avenues for financing sustainable transport.
"Sustainable transport is a challenge for all countries, but countries in special situations, including least developed countries, landlocked developing countries, and small island developing states, face particular obstacles," said Gyan Chandra Acharya, UN Under-Secretary-General and High Representative dealing with the needs of those countries (UN-OHRLLS), in his opening remarks to an event focused on sustainable transport and transit solutions in countries in special situations.
Developing countries face challenges in financing sustainable transport systems
Among the challenges highlighted by the panelists, and which, they acknowledged, must be addressed in order to achieve sustainable development in these countries, include high transport cost, restricted access to the sea, limited air service for passengers and cargo, and difficulties securing investments and partnerships.
"There are, altogether, about 1.1 billion people in these countries, so when we look at the global programmes, global solutions, as well as global development frameworks, we have to look at those countries if we want to leave no one behind, and make it inclusive of all," noted Mr. Acharya, referring to the rallying call of the UN Sustainable Development Goals (SDGs).
The conference brought together key stakeholders from Governments, the UN system and other international organisations, the private sector, and civil society to engage in a dialogue that emphasises the integrated and cross-cutting nature of sustainable transport and its multiple roles in supporting the achievement of the SDGs. All modes of transport – road, rail, aviation, ferry and maritime – were addressed.