Women Initiative for Sustainable Environment (WISE), an NGO, said on Wednesday, March 13, 2019 that it has reached more than 13,000 people in Kaduna State with clean stoves, to discourage the use of firewood in cooking.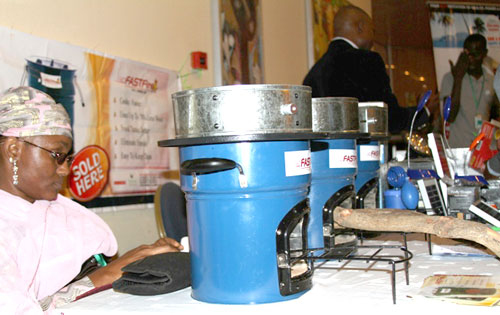 WISE Founder and Programme Director, Ms Olanike Olugboji, made this known at an event organised to celebrate the International Women's Day, with the theme, "Balance for Better".
Olugboji said that the 13,000 people were reached under the NGO's Women Clean Stove Entrepreneurship Project.
The director said the project was designed to promote the use of clean stove against firewood, for clean air and healthy lives.
According to her, the goal of the project is to help curb deaths resulting from inhalation of smoke from firewood, which she puts at more than 93,000 deaths annually in the country.
"In 2017, WISE trained 30 women in Kaduna State to be clean stove entrepreneurs, who went on to open their own clean stove businesses and become advocates of clean cooking stoves in their communities.
"So far, they have sold over 30, 000 clean stoves across the state in less than a year and reached more than 13,000 people with clean cooking stoves, thereby promoting clean air and healthy lives.
"Other benefits include the elimination of firewood and its health hazards, income generation, and reducing deforestation, smoke related illnesses and violence against women at home," she said.
Olugboji explained that the event was organised by the NGO, in partnership with World Pulse, Envirofit, and Asteven Renewable Energy to enlighten women to rise and contribute their quota to national development.
According to her, calls for women equality is a call for partnership and not for competition with the men as erroneously perceived.
"The real deal is that, women have something to contribute and should be given the chance to do so which could only happen if all biases against women are removed from our everyday lives," she said.
The director advised women against over dependence on men, but to rise up and reposition themselves to also give as according to her, the hand that receives would always stay down.
Olugboji, who distributed 100 clean stoves to the first 100 women at the event, and launched the NGOs Advocacy Document, called on women to shun the use of firewood because of its health hazards.
One of the clean stove entrepreneurs, Mrs Binta Yahaya said that she sold about 100 clean stoves every week at the cost of between N2,500 and N18,000.
Yahaya, who has become a producer of the product, named Fati Stove, added that she had engaged 30 women in her community and generates about N500,000 weekly.
Another entrepreneur, Mrs Ladi Bonat disclosed that the demand for the clean cooking stove was on the increase among women following the level of awareness in their communities.
"The project has given me a reliable source of income, generating about N20, 000 to N30, 000 weekly and helping me to reach out to women and enlighten them on the dangers of cooking with firewood," Bonat said. 
By Philip Yatai