Nigeria generates an estimated 2.5 million tonnes of plastic waste annually, of which only 12% is recycled. The remaining 88% of plastic waste ends up in landfills, waterways, and oceans, where it can harm wildlife, contaminate water sources, and contribute to climate change. Plastic pollution is considered a major problem in Nigeria, and observers believe that more needs to be done to reduce the amount of plastic waste generated and to improve recycling activities.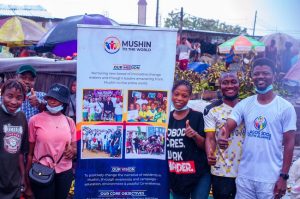 Courtesy of Mushin To The World Foundation, a youth-led, non-profit organisation, passionate young people in Mushin, a neighbourhood in Lagos, set out to take a proactive stance against the various environmental challenges, in an effort to beat plastic pollution.
Members of the group, in the company of market women at the Alamutu Market, a market situated in Mushin, on Saturday, June 3, 2023, commemorated the World Environment Day with a clean-up and sensitisation programme, with the theme: "Beat Plastic Pollution".
The clean-up reportedly began at 9am and lasted for three and a half hours. Over 20 volunteers from within the community participated in the clean-up. Items gathered include plastic bottles, food waste, and other forms of waste.
In addition to the clean-up, the event also included a sensitisation programme on the importance of environmental protection. Several speakers spoke to the market women and passers-by about the dangers of pollution and the importance of reducing, reusing, and recycling. They also provided information on how to adopt eco-friendly practices in their daily lives.
Market women reiterated the need for more government intervention and expressed their willingness to support all efforts of the government to beat plastic pollution in Mushin and the surrounding environment.
"I never knew about how plastic waste can become a form of revenue, and I promise to inform all members of my household about my new discovery," said Mrs. Daramola, a trader in the market.
The event raised awareness about the importance of environmental protection, and it helped to clean up the Alamutu Market and its surroundings. The market's management and the youth have committed to continuing to work together to promote environmental awareness and sustainability.