As Nigerian delegates, led by Vice-President Yemi Osinbajo, converge on Addis Ababa, Ethiopia for the UN International Financing for Development Conference, WaterAid Nigeria has called upon them to keep their commitments to prioritise access to water, sanitation and good hygiene in national budgets, so that no one is left behind.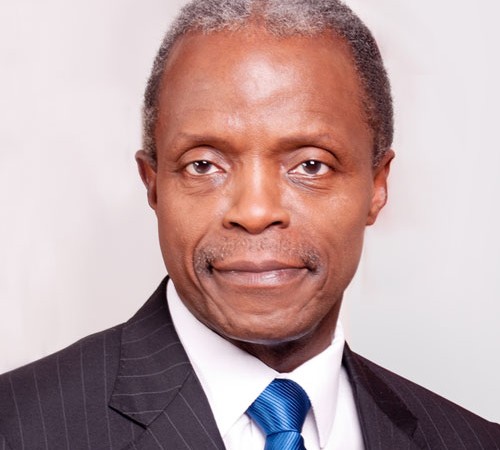 The Addis conference will determine how countries around the world finance ambitious new goals to eradicate extreme poverty and create a more sustainable world. The new UN Sustainable Development Goals, which will replace the Millennium Development Goals expiring this year, are to be finalised in New York this September.
Access to water and sanitation will play a key role in helping to achieve these new goals. A new WaterAid report, "Essential Element", has identified 45 high-priority countries, including Nigeria, which by virtue of the proportion of their people without access to the bare minima of water, sanitation and hygiene services, their low national resource availability and overall levels of poverty – are counted as high priority countries for aid investments in water, sanitation and hygiene.
To identify this group of high-priority countries, all developing countries were measured against five key indicators: three that relate to basic water and sanitation need, one to overall vulnerability and deprivation, and one to financial capacity.
These countries – many of them post-conflict and fragile –have all been left behind in financing for water, sanitation and hygiene programmes and will not be able to reach everyone with water and sanitation without targeted overseas aid and strong political leadership that prioritises the issue.
According to the newest figures, 31% of the Nigerian population still lack access to clean water, while 71% lack access to basic sanitation. More than 660 million people around the world are still without access to clean water and nearly 2.4 billion remain without a basic toilet, creating a health crisis which kills 500,000 children under five each year.
Without access to safe water and toilets it is extremely difficult for people to escape poverty. The WaterAid report puts the share of Nigeria's population in extreme poverty at 60%, reflecting how urgently the WASH crisis needs to be addressed if the country and its people are to develop and lead healthy and productive lives.
WaterAid Nigeria Country Representative, Dr. Michael Ojo, said: "While we strongly believe it is possible to reach everyone, everywhere with safe water, sanitary toilets and good hygiene practices by 2030, this will require high-level political dedication and the financing to match.
"These investments have a great return and pay off many times over. Safe water and basic toilets create healthier communities, and spare women and girls the long and difficult journeys they undertake to fetch water and the indignity and insecurity of having to find a private place to relieve themselves when there is no toilet. Children are more likely to attend school and families are more able to support themselves when they are not constantly ill from diarrhoeal disease.
"This health crisis kills half a million children under five each year. Putting an end to this injustice that kills so many of our children and affects so many of our women and girls is critical if we are to truly tackle extreme poverty.
"This is a once-in-a-generation moment and a chance for all of us to play our part. We cannot leave anyone behind."
In each of the 45 high-priority countries identified by WaterAid, half or more of the population do not have a basic, safe place to relieve themselves. As a result their citizens are at high risk of contracting waterborne diseases as well as pandemic illnesses that spread in the absence of good sanitation and hygiene practices, as seen in the recent Ebola crisis in West Africa.
At the AfricaSan 4 conference held in Senegal in May this year, governments of African countries, including the Nigerian Government, noted that this lack of access to improved sanitation together with poor hygiene practices result in a huge burden of disease and that the associated economic, human, social, health and environmental costs are a major burden on African countries.
National governments are increasingly recognising access to water as a human right, and moving towards visions of universal access to improved water and sanitation. It is time our government step up efforts to honour the various promises they have made, including for progressive annual budgetary allocations for water and sanitation; mobilising resources and prioritising sanitation and hygiene in the country's national development plan; and establishing and tracking sanitation and hygiene budget lines to reach a minimum of 0.5% GDP by 2020.