Pan African Climate Justice Alliance and Africa Development Interchange Network on Monday, July 13, 2015 hosted a side event at the UN's Third Financing for Development conference in Addis Ababa, Ethiopia to: discuss the importance of climate finance, and the relationship of climate finance to the FfD discussions and post-2015 process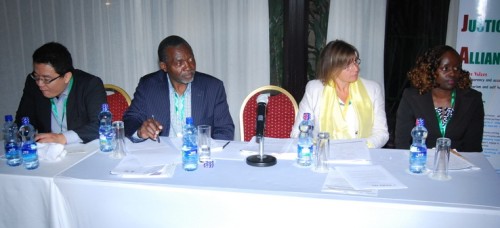 The crucial role of climate finance within the development agenda was cast under the spotlight on Monday during discussions at a side event hosted by African Civil Society, taking place at the Third International Financing for Development Conference in Addis Ababa.
PACJA and ADIN coordinated the event to profile climate finance and present the link between climate action and development gains. Policymakers, civil society members and international delegates gathered at the side event, taking place at the Hilton Hotel, Jacaranda to input on climate finance issues through Q&A/discussion with the panellists who included: Mwangi Waituru (Beyond 2015), Masaki Inaba (Japan Citizens Network) and Martin Tsounkeu (Africa Development Interchange Network).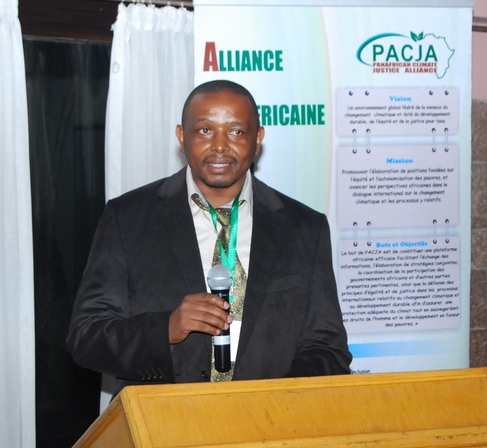 Stellah Riunguh presented a PACJA discussion paper on Climate Finance & Financing for Development. The paper argues that climate finance and sustainable development are two sides of the same coin and that climate finance can close the 'development gap' in Africa. Among the paper's most salient points are:
The level of financing of adaptation to climate change is extremely low in Africa when compared to the amount estimated and also sometimes the amount approved. For instance: a recent data from UNDP (2015) indicates that USD 2.3 billion has been approved for 453 projects and programmes in sub-Saharan Africa since 2003, but only 45% of the approved funds have been delivered for adaptation measures.
Inability to separate climate funds from the Official Development Assistance (ODA) as well as corruption, instability, insecurity and conflict have remained the biggest challenges to the generation of homegrown domestic funds in African countries.
Financing for development conference in Addis Ababa should be a catalytic signal that by September, the UN general Assembly will not be grappling with questions on money to support new post 2015 development agenda
Isabella Lövin, Minister for International Development Cooperation, Sweden, delivered the keynote address at the event and highlighted the strong contribution of Sweden to climate finance and Official Development Assistance, Africa's traditional source of development finding. Sweden has contributed USD 580 million to the Green Climate Fund and is the largest contributor per capita in the world. Sweden's commitment has been additional to its ODA pledge.
During her address Lövin, emphasised the importance of sustainable, affordable and accessible energy for all and said: "There is an opportunity for the global community to start again, look at our resources and redirect them in the right direction to achieve our goals. Currently, 1.3 billion people do not have access to electricity. Electricity is important for development and can allow children to study at night, families to own a fridge, and maybe even start a shop or business."
Ms Lovin also talked about the importance of transition to a low carbon society and of adequate funding for adaptation. She concluded her address by highlighting the fundamental role of civil society members present: "Civil society has an enormously important role to play in the new SDGs agenda. You have the capacity that can be utilized in the implementation of these projects."
The lively panel discussion was kicked off by Mwangi Waituru of Beyond 2015 who questioned seeking climate funding from the private sector when they have been responsible for creating many of the problems in the first place. He criticised governments for focusing on what divides them instead of what unites and said we cannot grow one part of the world but not others and expect to have global peace and prosperity.
Martin Tsounkeu from host organisation, Africa Development Interchange Network (ADIN), took the delegates through climate financing/FfD from the Moneterrey Consensus through to Addis. He said: "ODA has been largely a story of insufficiency and unfulfilled promises and many countries do not currently have the capacity to access funding. Climate finance is not an opportunity, it is a necessity. We need it."
Masaki Inaba of Japan Citizens Network also spoke on the panel and Lies Craeynest from Oxfam delivered concluding remarks.
At the UN's Third Financing for Development conference, in Addis Ababa, between 13-16 July, world leaders will look for ways to pay for the ambitious and costly sustainable development goals (SDGs), which include ending poverty and achieving food security in every corner of the globe by 2030.
United Nations Secretary General Ban Ki-moon told civil society organisations gathered in Addis Ababa at the opening session of the FfD conference that their role is vital in keeping governments accountable and ensuring that the voices of billions around the world are heard.
"Now, more than ever, the world needs your advocacy, expertise, and ingenuity; you are the voice of the people. You can count on the UN to make it heard, loud and clear," he said