US Environmental Protection Agency (EPA) officials are proposing to eliminate two programmes focused on limiting children's exposure to lead-based paint, which is known to cause damage to developing brains and nervous systems.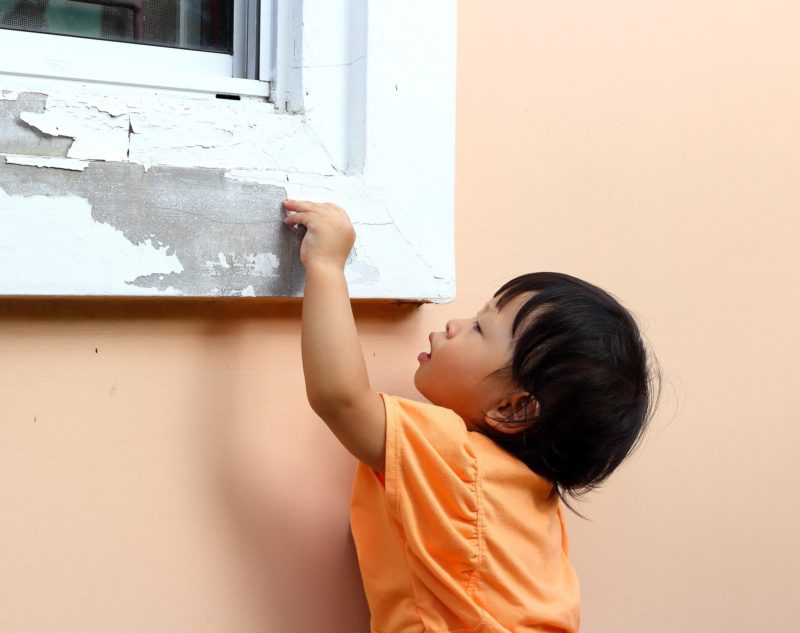 The proposed cuts, outlined in a 64-page budget memo revealed by The Washington Post on Friday, April 7, 2017 would roll back programmes aimed at reducing lead risks by $16.61 million and more than 70 employees, in line with a broader project by the Trump administration to devolve responsibility for environmental and health protection to state and local governments.
Old housing stock is the biggest risk for lead exposure – and the EPA estimates that 38 million U.S. homes contain lead-based paint.
Environmental groups said the elimination of the two programmes, which are focused on training workers in the safe removal of lead-based paint and public education about its risks, would make it harder for the EPA to address the environmental hazard.
One of the programmes falling under the axe requires professional remodelers to undergo training in safe practices for stripping away old, lead-based paints from homes and other facilities.
The training programme for remodelers was set up under a 2010 EPA regulation that aims to reduce exposure to toxic lead-paint chips and dust by requiring renovators to be certified in federally approved methods of containing and cleaning up work areas in homes constructed before 1978.
The rule applies to a broad range of renovations, including carpet removal and window replacement, in homes inhabited by pregnant women and young children.
Some operators in the home renovation industry have criticised the rule as too costly, noting that some customers simply opt to hire contractors who deliberately skirt the federal standards.
Lead is a potent neurotoxin, and particularly harmful to children and the elderly. Its dangers in gasoline, paint and drinking water have been scientifically documented over many decades, which has led to stronger regulatory protections.
In a 2014 report, the Centres for Disease Control and Prevention found that 243,000 children had blood lead levels above the danger threshold – and that permanent neurological damage and behavior disorders had been associated at even lower levels of lead exposure.
"The most common risk factor is living in a housing unit built before 1978, the year when residential use of lead paint was banned in the United States," the CDC found.
EPA spokeswoman Julia Valentine said in an email that the two programmes facing cuts are "mature," and that the goal of their elimination is to return "the responsibility for funding to state and local entities."
The Lead Risk Reduction Programme, which would be cut by $ 2.56 million and 72.8 full-time equivalent employees, is charged with certifying renovators who work in buildings that may contain lead-based paint and upholding federal safety standards for such projects. Located in the agency's Office of Chemical Safety and Pollution Prevention, the lead risk reduction programme also helps educate Americans about how to minimise their exposure to lead in their homes.
The second cut, a much deeper $ 14.05 million, would zero out grants to state and tribal programmes that also address lead-based paint risks.
"The basis for the EPA reduction is that states can do this work, but then we're going to take away the money we're going to give to states," said Jim Jones, who headed the EPA Office of Chemical Safety and Pollution Prevention, which administers the lead-based paint program, in the Obama years. "I think it's just one of many examples in that budget of the circular thinking there that just doesn't hold together."
But the National Association of the Remodeling Industry, which represents some of the industry's biggest players, welcomed the plan to abolish the two programmes. The association's chief executive, Fred Ulreich, said in a statement that the group "has long supported moving" the Lead Renovation, Repair and Painting Programme "from EPA down to the individual states."
Fourteen states – Alabama, Delaware, Georgia, Iowa, Kansas, Massachusetts, Mississippi, North Carolina, Oklahoma, Oregon, Rhode Island, Utah, Washington and Wisconsin – run programmes to train contractors how to properly handle renovations involving lead paint, according to the EPA's website. The rest rely on the federal government to provide training.
Ulreich said in his statement that his group "believes that the program can be better run and enforcement can be more vigorous the closer it is to the local contractors."
But Ulreich added that the group would object to states who seek to run a lead "abatement programme." The group has successfully delayed a programme in Maryland that goes further than the current federal requirements when it comes to lead paint removal.
Erik Olson, who directs the Natural Resources Defense Council's health programme, said in an interview that the move leaves children in dozens of states unprotected.
"If the state doesn't have a programme, which is true in most states, and if the EPA doesn't have a programme, how are you going to have compliance with the lead rules?" Olson asked. "Basically, this is the guts of the programme that protects kids from lead poisoning from paint."
State efforts to reduce lead risks have had mixed results. In 2004, New Jersey created the Lead Hazard Control Assistance Fund, which was supposed to provide loans and grants to homeowners and landlords to help them remove lead-based paint from aging housing stock. The programme was supposed to be funded by sales tax revenue from cans of paint, which was expected to be $7 million to $14 million a year.
Instead, over the next dozen years, the legislature and Democratic and Republican governors diverted more than $50 million from the fund to payment of routine bills and salaries.
The EPA's Valentine said in an email that the agency is "working towards implementing the president's budget based on the framework provided by his blueprint," and that "while many in Washington insist on greater spending, EPA is focused on greater value and real results."
The cuts to the lead-paint programmes would not directly affect EPA programmes related to lead in drinking water, as in the case of Flint, Mich. Those programmes fall under the agency's Office of Water. But the EPA memo does propose reducing funding and staff for the agency's drinking water programmes as well.
Changes to how the federal government addresses lead paint could affect hundreds of thousands of renovators, noted Remodeling magazine Editor in Chief Craig Webb.
The latest U.S. Census classified 78,000 firms as being in residential remodeling, with 278,921 employees. But since the 2010 rule also affects many siding, painting and wallcovering contractors, as well as individual proprietors, the number could be much higher.
The EPA announced in November 2016 that they had pursued more than 100 enforcement actions for lead-based paint hazards, many of those focused on the nation's largest companies.
In 2014, Lowe's home improvement chain agreed to pay $500,000 and create a compliance programme across its 1,700 stores as part of a settlement agreement with the EPA.
Lowe's had "failed to provide documentation showing that the contractors it hires to perform renovation projects for Lowe's customers had been certified by EPA, had been properly trained, had used lead-safe work practices, or had correctly used EPA-approved lead test kits at renovation sites," the agency charged. (The company did not respond to a request for comment Tuesday.)
Later, Sears reached a similar settlement with the agency. Sears also declined to comment for this story.
The National Association of Home Builders has objected to EPA's regulation, charging that it is "an inefficient tool for achieving the environmental and health goals of the underlying statute and rule."
On Tuesday, association spokeswoman Elizabeth Thompson said in an email: "At this point, it is premature to comment until something official has been announced."
By Chris Mooney and Juliet Eilperin, The Washington Post