With the Government of Canada depositing its instrument of ratification on Friday, April 7 2017, the number of countries that have ratified the Minamata Convention on Mercury now stands at 41.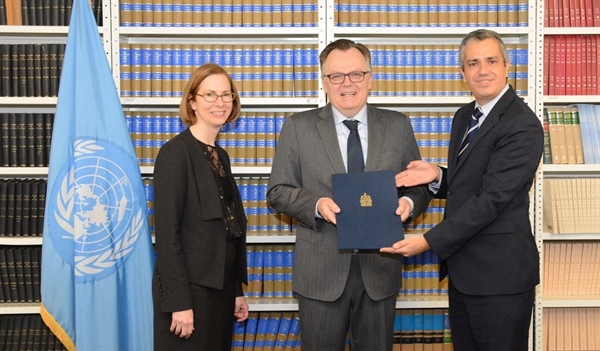 A minimum of 50 nations are required to ratify the Convention to make it legally binding, implying that just nine more ratifications are needed for the global treaty to reach this milestone.
And, upon achieving the breakthrough, the coast becomes clear for the scheduled First Conference of the Parties (COP1) to the Minamata Convention on Mercury to take place in the last week of September, 2017 in Geneva, Switzerland.
The Minamata Convention on Mercury, a global treaty aimed at protecting human health and the environment from the adverse effects of mercury, was agreed at the fifth session of the Intergovernmental Negotiating Committee (INC5) in Geneva, Switzerland on Saturday, January 19, 2013.
Canada's ratification was preceded by those of Ghana, Honduras, Liechtenstein and Togo.
Nigeria is one of the 128 signatories to the global treaty, but she is yet to ratify it.
Ratification automatically makes a nation a Party to the Convention with the duty to domesticate its content.
The signing of the Convention would enable such a country to:
Develop a National Implementation Strategy (NIS)/Action Plan to holistically address challenges relating to the reduction and elimination of Mercury;
Undertake a comprehensive inventory as a basis to develop and implement a more robust Mercury preventive programme which will include the identification and location, contaminated sites and extent of contamination, storage, handling and disposal to ensure that mercury related activities do not result in further damage to health and the environment;
Enhance national capacities with respect to human resources development and institutional strengthening, towards addressing concerns about the long-term effects of Mercury on both human health and the environment and also to ensure the effective domestication of the instrument that will be implementable at national level;
Sensitise the populace and policy makers on the hazards of mercury;
Develop and implement Mercury Release Minimisation Projects; and,
Control mercury supply and trade.
Nations that have ratified the Convention include: Antigua and Barbuda, Benin, Bolivia, Botswana, Canada, Chad, China, Costa Rica, Djibouti, Ecuador, Gabon, Ghana, Gambia, Guinea, Gayana, Honduras, Japan, Jordan, Kuwait, Lesotho, Liechtenstein, Madagascar, Mali and Mauritania.
Others are: Mexico, Monaco, Mongolia, Nicaragua, Panama, Peru, Samoa, Senegal, Seychelles, Sierra Leone, Swaziland, Switzerland, Togo, United Arab Emirates, United States of America, Uruguay and Zambia.
Major highlights of the Minamata Convention include a ban on new mercury mines, the phase-out of existing ones, the phase out and phase down of mercury use in a number of products and processes, control measures on emissions to air and on releases to land and water, and the regulation of the informal sector of artisanal and small-scale gold mining. The Convention also addresses interim storage of mercury and its disposal once it becomes waste, sites contaminated by mercury as well as health issues.