The Senate Committee on Environment has lauded the National Biosafety Management Agency (NBMA) over its modern state-of-the-art Genetic Modification (GM) Detection and Analysis Laboratory.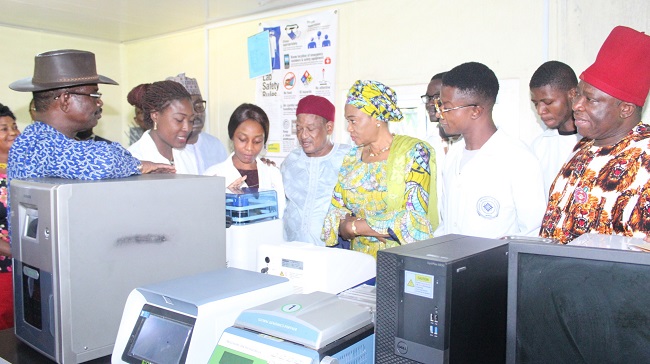 The senators made the commendation during an oversight visit to the agency in Abuja on Thursday, Nov. 8, 2018 while they were taken on a tour of the agency's laboratory.
Chairman, Senate Committee on Environment, Senator Oluremi Tinubu, said that, in such a short time of establishment, the agency has achieved a lot in terms of equipment, personnel and performance.
Senator Tinubu, who said the committee came to ascertain the level of performance for the years 2017 and 2018 of the agency's budget, also commended the Director General/CEO of the agency, Dr Rufus Ebegba, for achieving so much in a short time.
Dr Ebegba presented the 2017 and 2018 budget performance to the committee, noting that the essence of the GM detection and analysis laboratory is to ensure that no Genetically Modified Organism (GMO) is allowed into the country without proper verification and authorisation.
While presenting the budget, the DG/CEO said that, in 2017, about N243,734,400 was appropriated, about N170,806,235 was released and N170,806,235 was expended.
Dr Rufus said for 2018, about N258,069,920 was appropriated, N25,860,992 was released and about N25,851,051 has been expended so far.
The eight-man Committee promised to relate the progress and needs of the agency back to the National Assembly for onward action.
The DG/CEO thanked the Senate Committee on Environment for the encouragement during the visit.