As the world gears up for the UN Climate Change Conference COP26 in Glasgow in November 2021 – believed to be the most important since the signing of the Paris Climate Change Agreement, an encouraging signal in global efforts to tackle the climate crisis has come from the remote far east of Russia.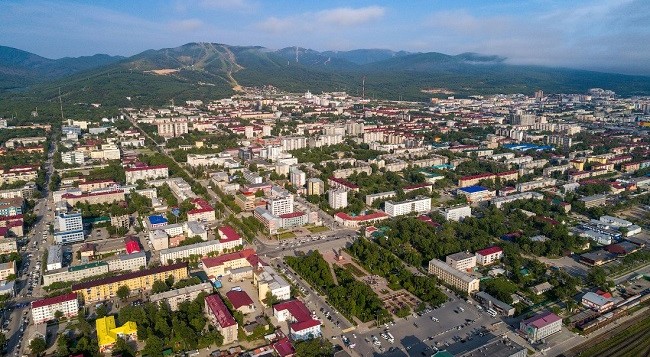 In January, a pilot carbon emissions trading scheme was given the go-ahead on the country's largest island of Sakhalin as part of a roadmap to achieve net zero carbon emissions by 2025.
Russia is considering scaling up the results of this initiative to cover all its territory, a boost for global efforts to achieve net zero greenhouse gas emissions by the middle of the century – an essential prerequisite to achieving the temperature goal of the Paris Agreement, which is to limit the global average temperature rise to as close as possible to 1.5 degrees Celsius.
The country is experiencing the impacts of accelerating climate change. Exceptional and prolonged heat in Siberia last year fuelled unprecedented Arctic fires. Sea ice coverage is decreasing along the Russian Arctic coast and melting permafrost has severe implications for infrastructure.
Emissions trading perceived to be a major opportunity
An emissions trading system (ETS) usually caps the total level of greenhouse gas emissions for countries or companies and allows those with low emissions to sell their extra allowances to a larger emitter. Emitting less CO2 means paying less for allowances, meaning that climate action is an investment that pays off.
Emissions trading is an effective means of carbon pricing – putting a price on planet-warming greenhouse gas emissions – and is increasingly recognised as an essential instrument to transition to a low-carbon economy. UN Secretary-General António Guterres is among the strongest advocates of the policy.
Emissions trading schemes can be established as climate policy instruments at the national level and the regional level. ETS programmes are currently in place in Europe, North and South America, and parts of Asia, and are being considered in several other regions. The European Union emissions trading scheme (EU ETS) is the world's first major carbon market, and the biggest to date.
In setting up the first system of its kind in the country, Russia plans to use the best practices of existing emissions trading schemes from around the world and aims to later integrate its ETS into the global and regional market, following a current trend. The choice of Sakhalin region is an ambitious one, given that the economy of the region, which is home to about half a million people, is currently largely based on fossil-fuel extraction, including coal.
Sakhalin could already be net-zero by 2025
According to Sakhalin's net-zero plan, an inventory of its greenhouse gas emissions and natural carbon sequestration potential will be carried out by August, before an emissions trading system is set up to begin operating in mid-2022 with the aim of achieving a net-zero target by 2025. Besides emissions trading and a ban on all petrol and diesel cars by 2035, the region also aims to develop blue and green hydrogen production and promote sustainable management of its forests.
Another market-based climate action system to be launched in 2021 will collect satellite and drone data on the CO₂ absorption capacity of forests in the Far East. This will allow companies to lease sections of forest from the Russian government in order to invest in planting new trees and protect existing ones. If the investment is proven to increase the absorption of greenhouse gases, the company can create a carbon credit to be traded on a digital platform.
These initiatives are taking place against the backdrop of a surge in new wind power plants in Russia, as outlined in a recent German FES-foundation study. The study shows that although Russia does not yet count among the major wind power nations, 2020 brought 700 Megawatt of new installations.