The Lagos-based Sustainable Research and Action for Environmental Development (SRADev Nigeria) joined campaigners across the world on Wednesday March 31, 2021 to mark the Global Day of Action, a movement by the Global Alliance for Incinerator Alternatives (GAIA) to promote zero waste and economic recovery around the world.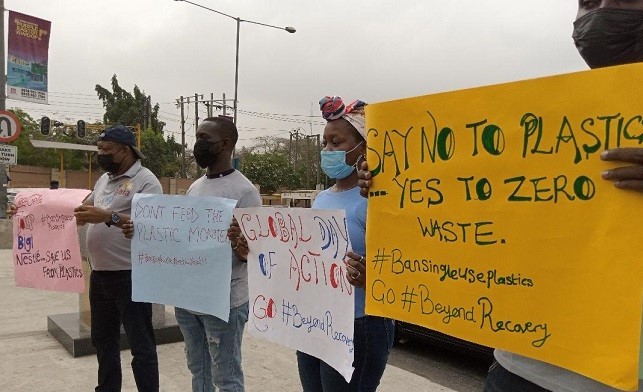 The event featured the Lagos campaigners displying posters with inscriptions such as: "Coca-Cola,7up, Bigi, Nestle… save us from plastics #Ban single use plastics"; "Say no to plastics, Yes to zero waste"; "Don't feed the plastics monster"; "Global Day of Action, Go #Beyound Recovery"; "Ban single use plastics now"; and "Ban single-use plastics now! Not 2025", among others.
The campaign kicked off at the Maryland bus stop in Lagos from where it moved to Alausa, and Agidingbi junction by Coca-Cola, sending messages to the government and a major polluter company in the city.
Executive Director, SRADev Nigeria, Dr. Leslie Adogame, described the banning of single-use plastics as an inevitable process which must be embraced now.
He said: "Banning of single-use plastic is an inevitable process, and we must embrace it just now. It is either we do it now or we die with plastics. We have to ban single-use plastic because there are alternatives. Let the industry stop hiding away from the alternatives, there are alternatives. We do not have the capacity in Nigeria.
"Even the developed countries are moving beyond recovery and our message is, we have to go beyond recovery and that is recycling. How many recycling facilities do we have, in the next 10 years, how many recycling facilities can Nigeria afford, compared to the volume of plastics waste been churned out on a daily basis? We are producing plastics as if there won't be tomorrow. The Coca-Cola, 7up, the Bigi, they keep on churning out plastics, where is their recycling facilities? They don't have. It is not sufficient.
"What we are saying is, zero waste economy is the best way to go. Let's reduce the production of plastics to the extent that when we want to recycle the few, the earth capacity is there."
Asked on the alternatives to single-use plastics, Adogame said: "There are alternatives for packaging materials that are biodegradable. Very environmental friendly, we cannot continue to churn out plastics that will take100 of years to biodegrade. We are dying of plastics, plastics tsunami wants to kill us. The government has to implement the polluters-pay-principle. The company should internalise the little cost, they know it."
On the next line of action, he said: "We are taking the message to the government in Alausa, we have a message for the government, and they have to begin to put a programme in place to phase out plastics. Our message to the Federal Government is that the National Policy on Plastic Waste is telling us they will ban single-use of plastics in 2025, we cannot wait for 2025. The time to ban plastics is now. There are alternatives to sirofoams that cannot biodegrade. The alternatives, we must use them. The ocean, beaches are filled with plastics."
Senior Programme Officer, SRADev Nigeria, Mr. Victor Fabunmi, added: "Most of the time, the plastics are not well recycled, you find them in the environment. Some leach to the soil and ocean. When it is being burnt, it emits dioxins to the atmosphere which comes down as chemicals causing cancers and other health issues. There are alternatives."
GAIA in a statement said: "As the COVID-19 pandemic continues to wreak havoc upon our communities, our decision-makers are promising that a recovery is around the corner. But the COVID-19 crisis has exposed how unjust, undemocratic, and unstable our current system is. It is not enough to simply recover.
"We can't go back to polluting industries – like plastic production and waste incineration – destroying our land, air, and water. We can't go back to governments disrespecting and underpaying the work of waste pickers and waste workers, the unsung heroes of cities around the world. We can't go back to a system where those least responsible for the waste crisis–low-income and marginalized communities–are made to suffer the most. It's time for our leaders to stop investing in industries that put our health and our climate in danger.
"We can't go back. So we must go beyond. We must invest in the movement for zero waste, led by the very same people who have been most harmed by the current make/take/waste economy. Communities across the world, from Buenos Aires to Boston, Sardinia to San Fernando, have developed zero waste systems that have saved cities millions, created good jobs, built up local economies, and improved the quality of life of countless people. When we go beyond recovery, we create an economy of life, where nothing and no one is wasted."