With hundreds of anxious poor, urban residents – men, women, and children – from waterfronts across Lagos State waiting inside and outside the High Court courtroom, Honourable Justice Onigbanjo on Wednesday, June 21, 2017 delivered his judgment.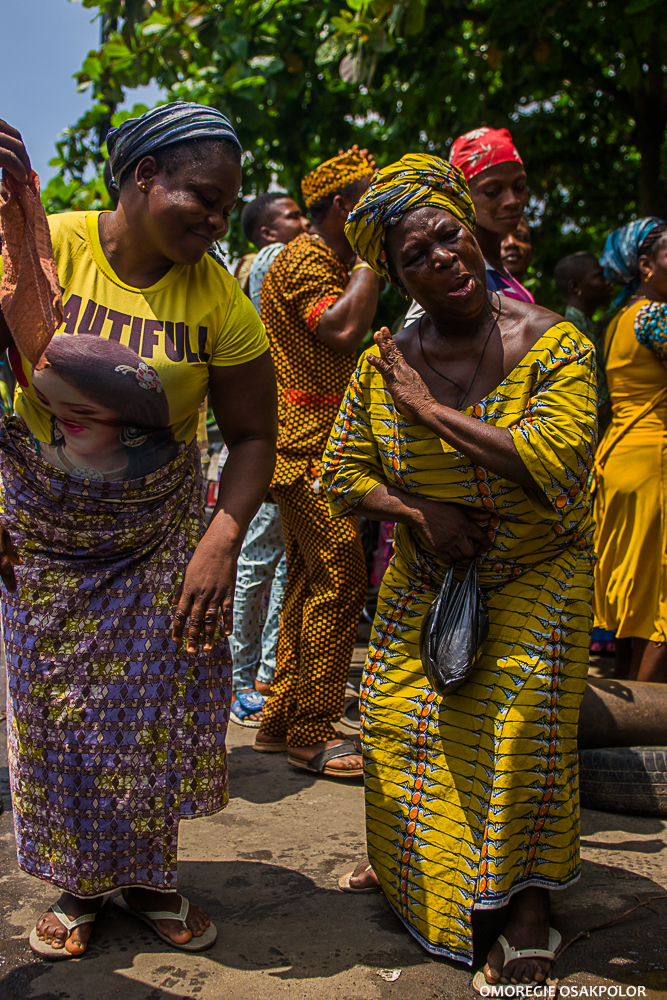 Relying on the Fundamental Rights (Enforcement Procedure) Rules, 2009, his Lordship said that he found evictions without adequate notice and resettlement to be cruel, inhuman, and degrading treatment (CIDT) in violation of the right to dignity enshrined in Section 34 of the 1999 Constitution of the Federal Republic of Nigeria and Article 5 of the African Charter on Human and Peoples' Rights.
The court also ordered the Lagos State Government to immediately consult and resettle displaced residents, even as his Lordship issued a permanent injunction restraining further evictions without consultation and resettlement of affected persons.
Apart from the resident who were immediately filled with joy, civil society groups and resident organisations have likewise been celebrating what seems like a landmark judgement.
The Justice & Empowerment Initiatives – Nigeria (JEI) and the Nigerian Slum / Informal Settlement Federation (Federation) jointly released a statement on the judgment, which arose from a fundamental rights enforcement case brought in October 2016 after the Lagos State Government stated its intention to demolish all waterfront communities.
The threat to the Lagos waterfronts began when Governor Akinwunmi Ambode announced on October 9, 2016 government's intention to "start demolishing all shanties on waterfronts across the state within seven days," citing recent kidnapping incidents as the purported justification.
Based on mapping and profiling done by the Federation, it was discovered that no fewer than 40 communities that fell under the threat and an estimated 300,000 residents were at risk of imminent eviction.
Accordingly, more than 20 member communities of the Federation joined together to write to Governor Ambode, calling for retraction of the threat and requesting for dialogue to explore alternatives to eviction. Two peaceful protests brought thousands of waterfront residents to the gates of the Governor's office and the State House of Assembly, but to no avail.
To the contrary, the Lagos State Government proceeded to demolish Ilubirin on October 15, 2016. Finally, the threatened waterfronts had no option but to proceed to court to enforce their fundamental rights.
On November 7, 2016, Honourable Justice Onigbanjo granted a temporary injunction restraining the Lagos State Government and the Nigerian Police Force from proceeding with any demolition of the waterfronts or eviction of their inhabitants. Despite this order, Otodo Gbame community – an ancestral Egun fishing settlement in Lekki – was demolished and over 30,000 residents forcibly evicted on November 9-10, 2016 by arson and a bulldozer working in the dead of night.
On January 26, 2017, Honourable Justice Onigbanjo issued an interim ruling holding that these evictions were in violation of the residents' right to dignity and ordered the Respondents to enter into mediation with the residents to explore alternatives to eviction. The court-ordered mediation failed, however, when the Lagos State Government unilaterally pulled out of the process after starting to evict the remaining 5,000 residents of Otodo Gbame on March 17-21, 2017.
On April 9, 2017, a violent demolition completely displaced all remaining residents of Otodo Gbame. Arriving without notice around 5am, persons suspected to be members of the Government's Task Force chased residents from their beds and into boats on the Lagos Lagoon using live bullets and teargas, while systematically setting their houses on fire. At least five evictees were reportedly shot, including 20-year-old Daniel Aya, who died from a gunshot to the neck.
The demolition of Otodo Gbame has been broadly condemned as a forced eviction and a gross violation of human rights, including by the United Nations Special Rapporteur on Adequate Shelter, Amnesty International, the Norwegian Ambassador to Nigeria, and countless others. Evictions that use arson and take place during the night – such as what occurred at Otodo Gbame – are said to constitute violations of the United Nations Convention Against Torture, even more so when they are discriminatory, as they were used against an ethnic minority community in Lagos.
The final judgment delivered by Honourable Justice Onigbanjo is seen by observers as a huge step forward in the quest for justice for Otodo Gbame evictees and seems to bring relief to over 270,000 residents of other waterfront communities in Lagos that have been living under the threat of eviction.
According to the JEI, the judgment sets important precedent in Nigeria by finding that evictions without adequate notice and resettlement violate the right to dignity of the human person, seen as an absolute right, which has no exceptions in the Nigerian Constitution or in well-established international human rights law.
"As Nigerians across Lagos, the country, and the world celebrate this landmark judgment, we call on the Lagos State Government to demonstrate a commitment to the rule of law and democracy by swiftly commencing consultation with Otodo Gbame evictees to remedy their homelessness," the JEI declared in the statement, adding:
"Knowing that wholesale resettlement is costly, we also call on the Lagos State Government to enter into dialogue with residents of other waterfront communities to plan for in situ upgrading that can simultaneously improve the quality of life of residents and address government concerns, embracing international best practice and avoiding unnecessary and costly evictions."