Ahead of the Eighteenth Session of the Conference of Parties (COP 18) to the United Nations Framework Convention on Climate Change (UNFCCC) scheduled to hold in a few weeks in Doha, Qatar, Nigerian negotiators and media practitioners have stepped up modalities towards ensuring a successful country participation at the annual global event.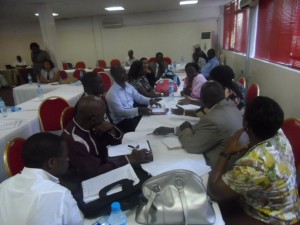 For two days (Tuesday and Wednesday) last week in Abuja, the climate change negotiators and media experts interacted at a forum designed to hone their skills in their respective spheres of endeavour.
Acting Director of the Climate Change Department (CCD) in the Federal Ministry of Environment (FME), Samuel Adejuwon, submitted that, besides providing an overview of the UNFCCC negotiations and their outcomes to date, focusing on key issues on the negotiation table in Doha, the brainstorming session was likewise designed to accord media personnel with hands-on-training on proceedings, daily interpretations and reporting of emerging climate change issues.
According to him, some of the capacities developed would be applied locally and as appropriate to ensure that "we move our nation forward in the concerted effort to effectively tackle the climate change challenge for the good of inhabitants of this great nation and humanity at large."
While disclosing that negotiators and the media were combined to provide room for crossbreeding of ideas and strategies, Permanent Secretary in the FME, Taiye Haruna, expressed reservations over the devastating effect of climate change in recent times.
He said: "The recent flood disaster in some parts of the country is a case in point. Apart from the painful loss of lives and properties, the gains already made towards achieving the Millennium Development Goals (MDGs) have been seriously threatened. Socio-economic infrastructure and farmlands were destroyed, resulting in the displacement of large populations, causing a lot of human insecurity.
"If we are to make an impact in the discourse of the phenomenon, we must not forget that this scourge represents a multigenerational and irreversible threat to human societies and the planet. Africa as a whole must be at alert as our region and people are particularly susceptible to the growing risk of run-away climate change, with its attendant catastrophic impacts on the natural ecosystems and humankind."
In a presentation on "Technology Development and Transfer Negotiations under the UNFCCC," Peter Ekweozoh, Head of Climate Change Desk in the Federal Ministry of Science and Technology, wants Nigeria to domesticate all Conventions and Protocols that can build the capacity of Nigerians to acquire green and environmentally sound technologies.
"Nigeria should optimise the immense opportunities in the various bilateral and multilateral agreement already entered into in the area of Technology Development and Transfer," he added.
In the light of the nation's vulnerability to the impact of climate change, N. H. Alhassan of the CCD urged the authorities to engage more in the science of climate change, undertake an inventory of greenhouse gases (GHGs) to identify sources and sinks, embark on mitigations options, assess vulnerability and impacts of climate change, assess and develop adaptation strategies, engage in education and public awareness, as well as actively participate in other cross-cutting issues.
Reflecting on the issues to be addressed in Doha, Alhassan stated that the Ad-Hoc Working Group requested to complete its work, even as the debate over the completion of some issues such as mitigation commitments of developed countries, finance and adaptation would take place.
"Parties are expected to negotiate a Protocol, another legal instrument or agreed outcome with Legal Force, and complete negotiations and adopt outcome at COP21 in 2015 and to enter into force as from 2020."
A negotiator, Prince Lekan Fadina, stressed that, within the context of African Group and F77+China's position, Nigeria should, as part of its key strategies, increase local capacities, embark on policy development and outreach, generate investment, design new financial mechanism, increasing enterprise access to credit, exploring the role of science and technology, consolidate value chains, and building capacities through environmental education and education for sustainable development.
"We must therefore use our strength to get what we want and ensuring that we tap all the opportunities even if we have to provide our services to other smaller countries," he declared, pointing out that It is necessary that some of the nation's key negotiations be available few days prior to COP18.
Adejuwon urged the negotiators to adopt respect and diplomacy; remain calm and keep their emotions in check; be prepared to work long hours with little time for relaxation; use informal meetings to build good will with other delegates; manage time efficiently; maintain credibility by respecting previously-granted concessions; and be attentive and active listener.
He listed the attributes of a good negotiator to include: strong language skill, strong analytic skill, readiness to read, detail understanding of own country's interest and position, and knowledge of the interests and position of other states and coalitions.