Civil society groups, labour unions, activists, and human rights groups from across Nigeria and around the world converge on Lagos Tuesday, August 11 for the first day of a two-day summit on Our Water; Our Right. The event will explore issues related to the World Bank's promotion of water privatisation and an investment in public alternatives that uphold the human right to water.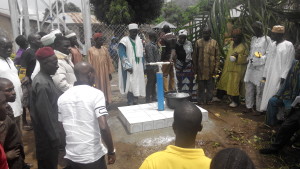 The summit comes amid a growing movement across Africa, and from Detroit in the United States, to Manila in Philippines, opposing the commodification of water and plans to privatise water systems. Concerns over plans to privatise water in Lagos has drawn global concern and support, including from members of U.S. Congress.
The summit will witness a convergence supporting lead host – the Environmental Rights Action / Friends of the Earth Nigeria (ERA/FoEN). Dozens of local, national, and international labour union member participants will also bring on their insights on cases of layoffs and the poor employment conditions for workers associated with privatisation exemplified by Nigeria's power sector privatisation failure.
Water sector experts will share lessons on how communities successfully resisted water privatisation schemes in Dar es Salaam and other countries of Africa. International human rights groups will also outline the tide of recent remunicipalisations around the world, elaborating on Public-Public Partnership models that have bolstered successful public water systems.
Expected figures at the summit are former House Representative member, Uche Oyeagucha; leading human rights and corruption advocate, Mallam Auwal Ibrahim Musa (Rafsanjani); and women's rights champion Dr. Josephine Obiajulu Okei-Odumakin. International participants include Mae Buenaventura from Manila, Philippines, where the World Bank facilitated a privatisation project in 1997 and Shayda Naficy and Nathaniel Meyer of Corporate Accountability International.
ERA/FoEN Executive Director, Godwin Ojo, said: "Access to water without the trappings of privatisers is non –negotiable. This summit is intended to debunk the myth behind public private partnerships and harness the skills of our local and international allies to promote the public public partnership that guarantees everyone have access to water regardless of their ability to pay for it."
Shayda Naficy, campaign director with Corporate Accountability International, said: "The goal of any water system is to provide the water people need to survive, not earn profits for the corporate water industry. It's time for the World Bank to end its dogmatic promotion of water for profit and support democratically controlled and publicly owned water systems, which is what the people of Lagos are demanding."
In October 2014, the "Our Water, Our Right" coalition launched a campaign to compel then-governor, Babatunde Fashola, to reject a large-scale public-private partnership water management plan. Just weeks later, the World Bank's private arm, the International Finance Corporation, indicated via email that its proposed role as transaction advisor for the project had been cancelled, followed by a public statement in January.
The summit is co-hosted by Public Services International, Amalgamated Union of Public Corporations, Civil Service Technical and Recreational Service Employees (AUPCTRE), in partnership with Transnational Institute, Corporate Accountability International, Asian Peoples' Movement on Debt & Development, and Freedom from Debt Coalition.