Sunday Ahmed has been in the business of scavenging for waste materials for about 20 years. Every day, he roams the streets of Lagos in search of used and discarded plastics, bottles, paper and aluminium that he resells at a local dump site in Oke-Afa, Isolo – a notorious mountain of solid waste that gives a bird's eye view of the surrounding neighbourhood.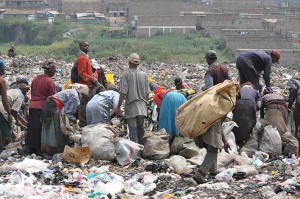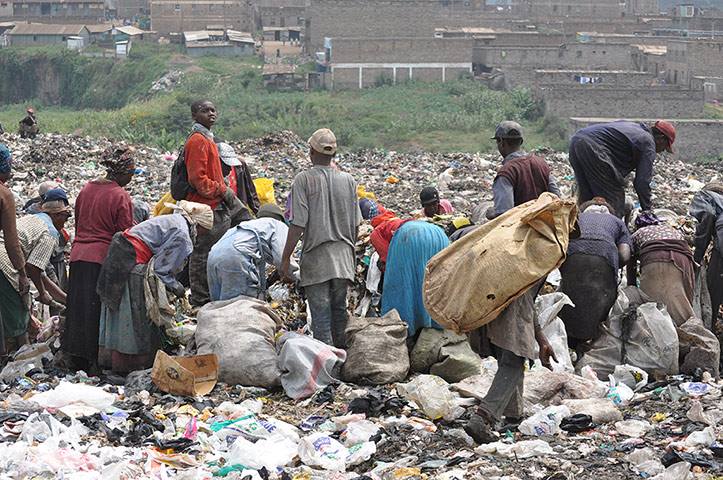 "I used to repair generator for people before but when customers were no longer coming, a friend of mine introduced me to this scavenging business. At first I didn't want to join him but when the pangs of hunger became too much for me to bear, I had to join him in the trade," Ahmed says, recalling how he got into the trade about two decades ago.
Shifting to sit more comfortably, he continues: "When we go in search of recyclable materials, we look dirty because our business is all about dirt. But, as long as it can put food on my table, I don't care what people think. In a good day, I can make about N10,000. But the danger of this job can take all the money away in one day.
"During the Ebola crisis in the country, we were afraid to scavenge for recyclable materials because the fear of Ebola was everywhere. There was a time that I fell sick when scavenging because a hospital waste was inside a bin. I didn't know at first that I could be infected that way. But after suffering from an infection that almost took my life, my family members took me to the general hospital where comprehensive tests were done on me.
"The doctor said I was infected and when he was asking me questions, I told him about my contact with a medical waste. Since then I have been very careful in this job. I ensure I wear nose masks, hand gloves, and protect my feet especially during the raining season so that diseases don't penetrate my leg from dirty water."
But he is afraid that a recently built facility is threatening his source of livelihood – a waste recovery facility with the capacity to receive 130 trucks daily. He fears that the material recovery facility will drive him and his colleagues out of business.
"The government likes to do big projects but don't consider people like us who are in the same business with them. If the government is sincere about their projects, they should look for ways to include us. They can employ us to work in this new recovery facility. We know the job, it is what I have been doing for about 20 years. I can even give them advice that will help the work. But they will look down at us and think we don't have anything to contribute."
But Ahmed has found an ally Alex Osahe, who makes aluminium pots, who frequently patronises him. Inflationary trends are increasingly making the importation of aluminium unattractive for Osahe's business. According to him, a friend advised him to patronise scavengers and waste sorters like Ahmed but he was adamant initially.
"I didn't believe I could get good recyclable aluminium from the scavengers. But I was shocked at what I discovered on the dump site. There are different recyclable materials that people don't know about. What we throw away as wastes can be reused into something else. I now buy aluminium regularly from here and don't have plan of importing the product for now. I can get what I need from Ahmed, so why import? These people we see on our streets scavenging are the real waste managers," Osahe's stresses.
The boom in scavenging in Lagos was triggered by the volume of waste generated in the state, which is estimated at over 9,000 tons of waste per day.
Scavengers, also known as rag pickers, now ransack the four major dumpsites across the state to source for used items that could be sold and recycled. They reportedly believe so much in the business that they refer to waste trucks as "consignments" that bring in goods to be cleared.
But the Lagos State Waste Management Authority (LAWMA) in realisation of the importance of recycling, recently initiated support for Public/Private Partnership Participation and employment opportunity in resource recovery through the Waste-to-Wealth programme such as nylon plastic recycling, kraft paper collection and buy-back programme from scavengers.
Some of the "qualified" scavengers are now manning recycling banks sited at various parts of the state as resource persons, just as the state government has adopted the 3 Rs: Reuse Recycle and Reduce strategy in waste management.
Nonetheless, some Lagosians frown at the trade. A resident, Adewole Oni, insists scavenging is a serious menace in the mega city that should be tackled.
"The government should not concentrate on the financial gains alone but adopt the San Diego's option in order to safe guard the lives of children and women who are likely to go into scavenging," he suggests.
Also, a health worker, who simply calls himself Johnson, expresses worry over the attitude of government despite the health implication on the practitioners.
According to him, it is worrisome to think that people wade through dump site irrespective of the offensive odour.
By Augustina Armstrong-Ogbonna