'The rains are here again, bringing conundrum that is difficult to cope with, confusion, wailing and a myriad of feelings and emotions. No more shelter to call home, clean drinking water is polluted and diseases are on the rise'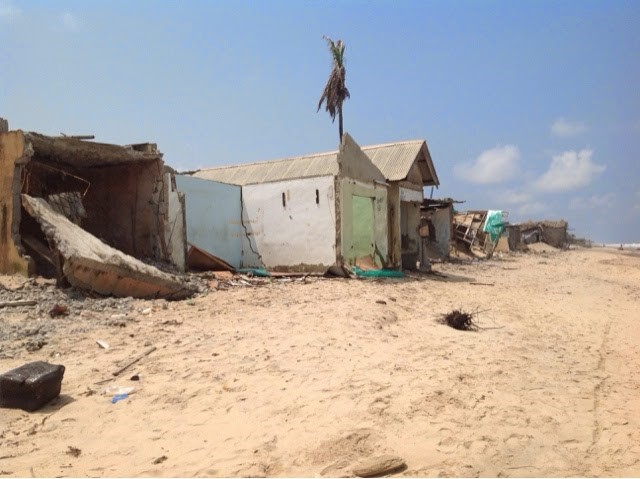 What is going to happen next? Trying to put myself in the shoes of people that live by the coastline, I can imagine that this is what they go through when the rainy season begins. Okun Alfa, formerly a beautiful beach in Lagos, is one of such communities that suffer from storm surges as a result of many hours of incessant rain. Storm surges usually occur in Okun Alfa, but climate change has escalated its occurrence. Causing inhabitants to migrate, their main source of income which is fishing has also been drastically affected.
Climate change is seriously affecting communities in rural and urban areas, and the poor are most susceptible to this crisis. They are at the frontline, with little or no information of the problem at hand let alone the ability to cope with it. One of the greatest challenges of the 21st century, global warming has brought upon us higher temperatures and melting of glaciers which result in sea level rise, salt water intrusion and many other ills.
The Nigerian Metrological Agency (NiMET) has predicted above normal rains in 2016 which might cause flooding in Lagos, the former capital of Nigeria and the economic hub of the country.
Lagos State is a coastal city making it the home of trade like other coastal cities around the world. The metropolis is highly vulnerable to climate change and the negative impacts of global warming are already being felt; examples are accelerated flooding and coastal erosion. Lagos is a barrier island, that is an island surrounded by an ocean and a lagoon which makes the state a climate sensitive region.
Several reports like the United Nations Environment Programme (UNEP) second adaptation report states that a 0.5m sea level rise will affect coastal cities like Lagos, while the Federal Ministry of Environment reports that by 2050 many parts of Lagos might be under water. According to Nicholls et al (2008), sea level rise in Lagos could cost the city assets worth of about $117.3 billion.
Action has to be taken now to reduce the impact of the adverse effects of climate change on the metropolis. Hard and soft engineering, like building sea walls and planting of trees have been considered by the government of Lagos State such as the Eko Atlantic Project, and the establishment of parks and gardens.
Climate change awareness and education has to be intensified in Lagos and Nigeria as a whole, while an important human resource that can drive such initiatives are the youth.
Aside from climate change being caused by man, our habits can further boost or abate global warming and its negative effects, such as waste management and agricultural practices. Youth are very versatile and innovative, with a large number of them unemployed. Conserving and protecting the environment through youth, while engaging in green businesses can go a long way in making cities, communities and countries more climate resilient.
By Chinma George (Climate finance consultant, @Chimz_green)