A weeklong cleaning of parts of the restive Lagos coastline will commence on Monday, September 24 2012. The forum will incorporate a series of awareness raising activities on issues bordering on the impact of pollutants, especially marine debris in coastal areas.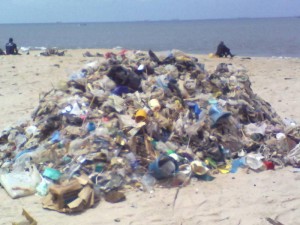 Clean Coast Nigeria (CCN), in collaboration with Ocean Conservancy, is organising the exercise, which is the second in the series. According to officials of the CCN, the event will produce and entertain a variety of events highlighting coastal and marine pollution.
They added that, during this programme, friends of the CCN will offer information and inspirational solutions to the public about the increasingly alarming environmental challenge.
"With rising waters due to climate change and global warming, there is evidence to show that, in the event of an ocean surge, what is usually left on our shores and land when the waters recede is marine debris. Comprising of different thrash, they litter the environment, entangle and kill fish and other marine organisms as well as poison them. This debris is in most cases made up of plastic materials, computers, car parts and logs of wood. How do you think local people get rid of these thrash? They burn them. This burning adds to gases that affect the world's climate," said Lt. Renner Kofi Omare, a research officer with the Nigerian Institute For Oceanography and Marine Research in Lagos.
He pointed out that the event, which has "Marine Debris and Me" as its theme, aims as encouraging local communities, corporate entities and government covering school children, and environmental stakeholders to speak about marine debris and how it affects Nigeria.
Omare went on: "Clean Coast Nigeria is taking this initiative from its mother body Ocean Conservancy, in line with Lagos State Government's drive to reduce and protect our environment as seen by the presence of LAWMA and other state officials who make an attempt to keep our beaches clean. This Campaign aims to protect our environment from the harmful intrusions and damage caused by the effects of waste indiscriminately dumped along our coastal waters and posing avoidable serious health issues and environmental hazards to our communities. The beach cleanup event will take place on Saturday, September 29, 2012, and is aimed at promoting awareness-raising initiatives among all levels of society, from government, industry and educational institutions, to community-led initiatives, grassroots organisations, and the decisions of individual households and consumers."