The National Union of Teachers (NUT) has provided free eye screening exercise for its members in the Jaba Local Government Area (LGA) of Kaduna State.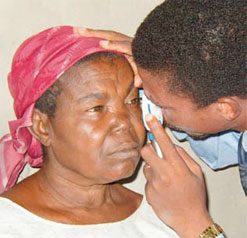 NUT state chairman, Titus Amba, commended the union branch office in the LGA for its foresight. NUT State Public Relations Officer, Dauda Bahago, represented the chairman at the event held in Kwoi town.
He said the eye screening exercise would go a long way in improving the sight of the teachers in the local government.
He urged other branches of the NUT within the 23 LGAs of the state to emulate the Jaba chapter of the union.
Jaba NUT chairman, Yusuf Auta Nok, said they embarked on the free eye screening exercise having realised that most of the teachers in the area are bedevil with eyesight challenges.
"When the union took a tour of primary schools in the area we discovered most teachers find it difficult to read what they wrote on board, hence the need for the screening," he said.
Earlier, Education Secretary of the LGA, Daniel Dams, said the local council would continue to offer support to the union in its determination to improve performance of its teachers.
He urged the teachers to reciprocate the kind gesture by being dedicated and committed to their duties at all time.
By Ibrahim Mohammad, Kaduna