The Federal Government has been told not to approve the final Environmental Impact Assessment (EIA) submitted to it last month by the Cross River State Government in respect of the proposed superhighway.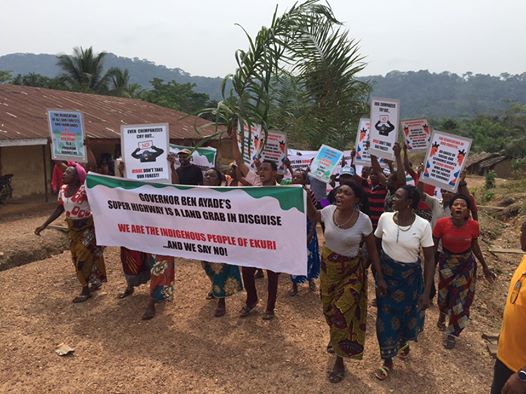 According to a group of women and girls of Etara, Eyeyeng, Edondon, Okokori, Old Ekuri and New Ekuri, Iko Esai and Owai communities in Etung, Obubra and Akamkpa Local Government Areas in the state, under the aegis of the Wanel-aedon Development Association, approval for the EIA should not be granted because, besides threatening their source of livelihood, lands earmarked for the project were unfairly taken from them by the authorities.
In a petition written to President Muhammadu Buhari, the women urged Mr President to direct Governor Ben Ayade of Cross River State to de-revoke all their lands, settlements, farmlands and forests, as well as re-route the superhighway out of the forests so as to "conserve biodiversity and ecosystem services for the wellbeing of humanity".
In a petition titled: "Our opposition to the revocation of our lands for a superhighway" and signed by nearly a thousand persons, the group likewise wants President Buhari to "protect our rights as minorities to our ancestral lands and direct Governor Ayade to pay adequate compensation for our property, farms, sacred sites and forests destroyed during clearance of the superhighway that went without prior evaluation of the above and in the absence an EIA."
They peaded: "Help us to protect our means of daily livelihoods, food security and support and support us to conserve the forest to protect endangered species and their habitats in consonant with the Endangered Species Laws that you assented to on 30th December 2016. Help us in our resolve to conserve the forest, a practice we are customarily used to for several centuries to reduce the release of carbon dioxide, improve carbon sequestration and lessen climate change in line with the Paris Agreement which Nigeria endorsed."
The women said that they are also opposing the proposed project because the governor excluded them from all decision-making processes "because we are regarded as 'back-benchers', good-to-be-seen-and-not-to-be-heard and, at best, 'surbodinates' in power and development."
They added: "Our rights as indigenous women and girls has been systematically excluded from the process of governance hence this inhuman revocation for a superhighway; our free, prior and informed consent has not been sought and even throughout the EIAs (twice)  for our meaningful participation.
"We, as underpriviledged and minority populations, depend on farming and forest gathering activities for daily sustenance. The revocation of all our lands is a repression and socio-economic marginalisation against us by the government of Cross River State as well as an abuse of our social and economic rights protected under the constitution of Nigeria, ECOWAS, AU and international laws.
"We recognise the sancity of our citizenship rights, mobility rights to own property, the right to work and the right to food, but the revocation of all our farmlands and forests – two critical resource base that alow our rightd and economic liberty – is a threat or failure for us to achieve the Sustainable Development Goals (SDGs)."