The Environmental Right Action/Friends of the Earth Nigeria (ERA/FoEN) on Monday, April 9, 2018 solicited the establishment of specialised laboratories for oil spill-related tests to resolve spill-related conflicts in the Niger Delta region.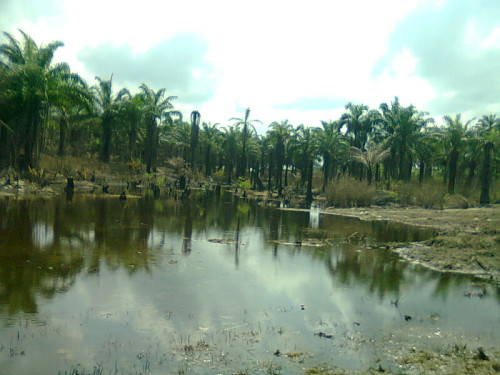 ERA/FoEN made the appeal in its report on the September 2017 spill incident at Agip's 10" Tebidaba-Clough-creek pipeline in Southern Ijaw Local Government Area of Bayelsa.
It will be recalled that the clean-up of the oil leak, which discharged about 180 barrels of crude into the environment, was delayed until the Bayelsa Government intervened to resolve the disagreement.
Mr Marco Rodondi, District General Manager, Nigeria Agip Oil Company, said that the conflict between community and Agip had frustrated the clean-up efforts, which had currently reached the final stage.
The report urged the federal and state governments as well as interventionist agencies in the Niger Delta region to set up specialised laboratories to facilitate the speedy resolution of oil spill pollution-related conflicts between oil firms and their host communities.
The report, signed by Alagoa Morris, Head of Field Operations at ERA/FoEN, said that the laboratories would conduct confirmatory tests by tracing sources of oil leaks and environmental toxicology tests to confirm clean-up of oil spill sites.
The group said that the endless arguments between Agip officials and Apoi community in Bayelsa, which was affected by the oil spill, could have been avoided if functional reference laboratories were in place.
"There is need for the Bayelsa Government to collaborate with the Federal Government's interventionist agencies like Niger Delta Development Commission and Ministry of Niger Delta Affairs on pollution cases.
"These stakeholders should establish functional, standard science laboratories.
"This is with a view to making it easier for our communities and other individuals affected in connection with water, land and air pollution to get samples analysed.
"This is very critical because it will assist all stakeholders, clean-up contractors, impacted communities and oil companies concerned," ERA/FoEN said.
The non-governmental organisation quoted a Joint Investigation Visit (JIV) report on the oil spill incident as stating that out of 180 barrels of crude oil, which leaked into the environment, 124 barrels had been recovered.
ERA/FoEN, however, expressed the regret that 56 barrels of spilled crude oil had not been accounted for.
"There is need for soil and water samples to be collected from the disputed environment for scientific analysis; in view of the toxic nature of crude oil to the environment and the need for proper clean-up.
"All stakeholders, including regulatory agencies, oil firms and the community, should be involved in this exercise," ERA/FoEN stated.
By Nathan Nwakamma