Private sector players have been urged to collaborate with government to close up the gap in the climate change space by being a more active investor in order to ensure the nation's safety from environmental catastrophe.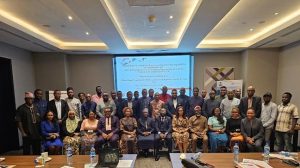 Director, International Economic Relations Department, Federal Ministry of Finance, Budget and National Planning (FMFBN), Mr. George Nyeso Stanley, who made the call in his welcome remarks in Lagos on Thursday, August 10, 2023, at a policy advocacy session on "Deepening Private Sector Participation in the Nigeria Climate Change Act", emphasised that the private sector is not just a tool to help mitigate the causes of climate change.
While pointing out that many emissions reduction projects deliver non-carbon benefits such as pollution prevention, public-health improvements, and job creation health, Stanley, represented by Mrs. Oluwatoyin Alonge, an Assistant Director, stressed that these projects can have additional benefits such as biodiversity protection.
"Carbon credits also supports investment into the innovation required to lower the cost of emerging climate technologies," he stated, adding that forum, co-organised by GIZ's Policy Dialogue and Knowledge Management on Climate Protection Strategies (DIAPOL-CE), is seeking to bring experts from energy, climate and government institutions together to discuss and agree on actionable deliverables that will help to propel the economy by creating climate change investment in adaptation and mitigation actions as well as build resilience in the rural communities.
According to him, the most vulnerable regions to the impact of climate change in Nigeria are the coastal areas in the extreme southern part and erosion and desertification-prone areas in the south-eastern and northern parts of the country respectively.
Stanley disclosed that Nigeria needs more financial support from the private sector to enhance climate action, particularly in the following areas:
Mobilisation of public and private finance adaptation projects and other National plans of action as captured in the NDCs;
Support the implementation of the National Adaption Plan;
More capacity and technical support for implementing climate action; and,
Development of climate-related palliatives for Youth and women empowerment and engagement in climate actions.
Dr Salisu Dahiru, Director General, National Council on Climate Change (NCCC), underscored the need for the private sector to be involved in climate change.
"The of a climate change crisis affects profit, production and survival of the private sector," he said, even as he urged private sector players to invest in adaptation to climate change.
He assured that there would be incentives for those interested in shifting from fossil fuel-based energy to renewable energy-based resources.
Speaking in a similar vein, Huzi Mshelia, Nigeria Coordinator, NDC Partnership, opined that government alone cannot fund climate action.
His words: "Private sector intervention is vital. But we need to determine how the private sector will be involved, what the inherent incentives are, and how we will raise resources."
Mr. Laoye Jaiyeola, Director General, Nigeria Economic Summit Group (NESG), explored the expectations of private sector players in supporting government on climate actions.
Represented by Mr. Abass Agbaje, Jaiyeola emphasised that the private sector expects government to create an enabling environment, even as it guides against policy and regulation conflict.
"Climate actions need to be operated in an wholistic manner to ensure that certain policies are advancing climate action, while another is impeding the action," he said, listing other related issues to include the courts' readiness to resolve disputes as the nation implements the climate change act; perception risk as a result of security challenges that could restrict access to project sites; intellectual property protection to protect people's innovation from being stolen; building local capacity and developing local supply chain capacity to be able to, for example, recycle or dispose of spent batteries; mobilisation of financial resources from the private sector; explore climate change adaptation from the blue economy in coastal settlements by building coastal infrastructure, and raising blue bonds; ensuring the need data integrity and transparency as the NDC emissions data, for example, are regarded as estimates; and environmental and social safeguards.