In celebration of the forthcoming United Nations International Youth Day on August 12, the International Water Management Institute (IWMI) and Lusaka-based innovation and technology hub BongoHive, in partnership with the Accelerating Impacts of CGIAR Climate Research in Africa (AICCRA) Zambia project, on Wednesday, August 9, 2023, hosted a Demonstration Day for the three groups of young startups in its Internship and Innovation Grant (I2G) innovation challenge in Lusaka, Zambia.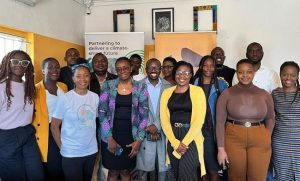 With the aim of developing innovators' and creative students' capacity to design potential solutions for private companies' needs and challenges in doing business in climate-smart agriculture (CSA) and climate information services (CIS) value chains and scaling of CSA-CIS bundles, the I2G in partnership with BongoHive held an innovation challenge. Out of 72 applications, 10 groups were selected to participate and three groups with innovative ideas stood out and were awarded additional support to commercialise their innovation and build their business competences.
The additional support included entrepreneurship readiness training, prototype development, and incubation. The teams showcased their solutions at the Demonstration Day which served as an invaluable opportunity to witness the transformative outcomes of the innovation challenge and for stakeholders to engage directly with the entrepreneurs behind these innovations.
The Demonstration Day took place at BongoHive in Lusaka, Zambia, and was an opportunity for the top three performing startups from the I2G innovation challenge to demonstrate their solutions for climate-smart agriculture and climate information services to a judging panel of industry experts.
"It started from a dream on how to package Zambian flavoured snacks. AICCRA and BongoHive helped us to refine our ideas, particularly in such a way that can support local farmers by incentivising the use of climate smart agriculture. We did this through increasing their market share and coming up with a sustainable model that is good for the environment and our Zambian economy," says Mwiche Mukoma from Green Giraffe which is one of the top three winners.
In the pursuit of scaling
The I2G challenge has seen young innovators from across Zambia competing to develop innovative solutions in CSA and CIS. The I2G supports young entrepreneurs, professionals and graduate students through private sector working experience and demand-driven innovation development. It aims at strengthening the pipeline of the agribusiness ecosystem by providing capacity strengthening opportunities such as the innovation challenge and incubation for Zambian youths to tackle real-life CSA/CIS challenges faced by agri-SMEs.
According to Dr Concillia Monda of the School of Natural Resources at Copperbelt University, such programmes need to be supported and scaled to reach an even bigger market.
"AICCRA and the Copperbelt University are both interested in climate smart agriculture. We are at the core of training people who implement these concepts and to take up the scaling discussion in growing such good works. I hope the finalists will act as motivators to other youth so that they too can get involved and run with the baton," added Dr Monde.
Adding to the scaling conversation Nchimunya Bbebe, lecturer from Mulungushi University, highlighted that "the best way to prepare (for climate change) is to create technologies that will help us ride the wave into the future. I can also not overemphasise the need to scale such technologies."
Unfolding "greener" paths
The challenge comprised three key phases. In the first innovation challenge phase, the 10 selected groups were taken through a human-centred design process to identify challenges faced by their fellow youth through a design sprint. This phase culminated to pitch practice, and a pitch day, where each team had to pitch their solutions to industry experts, serving as a jury.
The three groups that exhibited high potential for scaling were identified during the Pitch Day (which took place before the Demo Day). The winning team was awarded K24,000 (K8,000 each), the second prize was K18,000 (K6,000 each), and the third team received K12,000 (K3,000 each). Additionally, these winning teams were selected to proceed to the incubation and internship phases.
The incubation phase involved one-on-one business modelling, marketing, financial, strategy, legal, investor readiness, and technology coaching facilitated by the BongoHive Innovation, Technology and Entrepreneurship team. The Incubation process was for a period of 3-6 months. The third and final phase included the Demonstration Day on August 9, 2023.
"We were thrilled to see the enthusiasm and dedication of the participants in tackling climate change challenges through the I2G Innovation Challenge," said Dr Inga Jacobs-Mata, Regional Representative of the International Water Management Institute (IWMI), Southern Africa and lead of the AICCRA Zambia programme. "This provides a steppingstone for young agribusiness entrepreneurs to scale their innovations in climate-smart agriculture and climate information services. These youth-led social enterprises are making such a meaningful impact to the Zambian agribusiness ecosystem, and its inspiring for us to work with them providing science-based technical support to innovation scaling."
Throughout the challenge, insightful workshops and sessions with external industry experts gathered valuable perspectives on CSA/CIS challenges, leading to the formation of challenge statements. Themes included building on indigenous knowledge, raising awareness about climate change and CSA/CIS, improving access to information at the grassroots level, addressing brain drain, and communicating intervention success stories.
"It is heartening to witness the commitment of Zambia's young minds in addressing climate challenges," stated BongoHive Co-founder and Executive Director Lukonga Lindunda.
"BongoHive is happy to contribute to the creation of impactful and viable solutions in the agriculture sector through training scalable startups and reducing barriers to entrepreneurship. We look forward to seeing these solutions being implemented beyond this programme," he added.
The event recognised the impactful efforts of the young innovators in driving a greener and climate-smart future in Zambia. In coming together to support their innovative solutions, young changemakers were empowered for a sustainable tomorrow.
"The event lived up to AICCRA's pursuits of harnessing climate smart agriculture through climate smart innovation development. AICCRA is a project that helps to deliver a climate-smart African future driven by science and innovation in agriculture. This Demo Day strove to bring young minds together to showcase the transformative outcomes that comes from elevating communities to dig in deep, be empowered, and raise the horn of a greener, climate smart Zambia – and Africa at large. The next step is scaling and bringing along Zambian farmers, the government and the private sector," concludes Dr Mirriam Makungwe, Research Officer at IWMI.