Youths from four communities in Kajuru Local Government Areas (LGAs) of Kaduna State have planted 1,000 trees to contribute to efforts in combating climate change.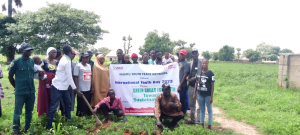 The tree planting was carried out at Idon, Iburu, Kajuru and Kasuwan Magani community, to mark the International Youth Day.
The Southern part of Kaduna communities are members of the Kajuru Youth Peace Network, under the Community Initiative to Promote Peace (CIPP) programme.
The exercise was initiated by the Kajuru Youth Peace Network, supported by the CIPP programme anchored by Mercy Corps and funded by USAID.
The theme for 2023 International Youth Day is "Greens skills for youth: Towards a sustainable world."
After the event, Mr Jonathan Peter, a youth mobiliser at Kajuru LGA, said the theme for the year's celebration was beyond farming of crops.
He explained that green skills were innovative ways youths could use their knowledge in combating contemporary challenges of climate change, saying tree planting was one of such ways.
Peter noted that Kajuru communities were  bedeviled by deforestation caused by commercial activities, lamenting that the trees were not  being replaced by planting new ones after felling them.
He, therefore, said tree planting was critical to survival, adding that those who would be affected by the deforestation in the future were the youth.
"We must by all means prepare the society the way we want to live in it tomorrow," he said.
Peter, who spoke on behalf of the four communities who carried out the excercise, pledged that they would distribute and plant trees across all the political wards in the LGA in three months.
He urged members of the communities to ensure proper nurturing of the trees, while calling on the government and other relevant stakeholders to engage in tree planting across the state to save it from climate change.
Also, Malam Sule Rigachikun, a Ranger at Kajuru LGA, under the Kaduna State Ministry of Environment and Natural Resources, commended the initiative.
He noted that everybody liked fruits, fresh air and shade, while lamenting that majority did not like planting trees.
Rigachikun thanked the organisations for their support, while urging members of the community to ensure proper nurturing of the trees.
By Sani Idris