Soil scientist, Prof. Ayodele Odofin of the Federal University of Technology in Minna, Niger State, has called for more attention on agriculture to increase profits, food security, preserve, and enhance the resource base of the nation and its environment.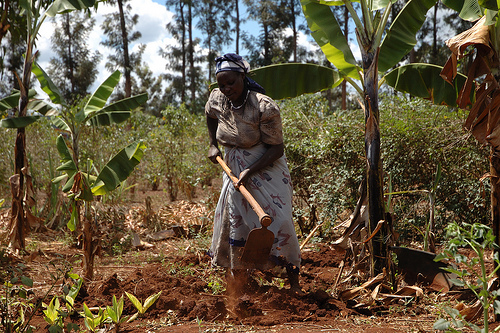 The don made the call when he delivered the 56th Inaugural Lecture of the university titled: "Nigerian Soil Resources: The Neglected Base of Our National Development," at the Caverton Lecture Theatre, Main Campus, Minna.
Odofin, who is of the Department of Soil Science and Land Management, School of Agriculture and Agricultural Technology (SAAT), said that conservation agriculture would increase profits, food security, preserve, and enhance the resource base of the nation as well as its environment.
He disclosed that conversation of agriculture centres around three inter-related core practices namely; continuous no-or minimal mechanical soil disturbance, maintenance of a permanent organic soil cover and mixing or rotating at least three different crops, with a balanced mix of legume and non-legume crops.
According to the don, the thrust of the lecture was to draw attention to soil management techniques which majority of Nigerian farmers must embrace if the nation's soil resources are to be exploited in a sustainable manner to ensure food security.
Odofin said that, before independence, agriculture was the most important sector of the economy and accounted for more than 50 per cent of GDP and more than 75 per cent of export earnings.
"However, with the rapid expansion of the petroleum industry, agricultural development was neglected due to inadequate funding and massive importation of food items."
This, he said, has given rise to high food prices, hunger, domestic inflation, depletion of foreign reserves and
rural-urban migration.
The lecturer noted that intensification of agriculture and agro-industrialisation remains the only logical option for
food import bills to be reduced.
In conservation agriculture, Odofin said planting holes are made in line with cutlass, dibble stick or jab planter for direct sowing (zero tillage) and the advantages of conservation agriculture are erosion control, time saving and labour, timely planting, elimination of tillage machinery expenses and profitability.
He, therefore, enjoined farmers to switch from tillage agriculture to conservation agriculture and recommended that government should officially recognise conservation agriculture as a production system to be actively promoted and supported.
According to him, this will enhance food production and sustainability.
He also recommended that conservation agriculture should be added to the schedule of Director in the Federal Ministry of Agriculture and the appointment of Desk Officers for conservation agriculture, which should also be replicated in all the states and the Federal Capital Territory.
In his remarks, the Vice-Chancellor of the institution, Prof. Musbau Akanji, commended the Inaugural Lecturer for his presentation.
By Aminu Ahmed Garko