The Federal Government on Tuesday, February 27, 2018 released the names and details of the missing 110 girls following attack on the Government Girls Science and Technical College, Dapchi, Yobe State on Feb. 19.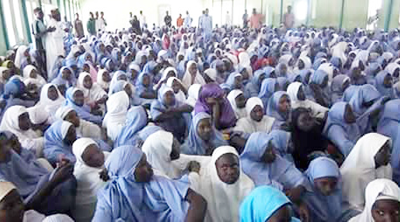 The list was contained in a statement issued in Abuja by the Minister of Information and Culture, Alhaji Lai Mohammed.
The minister said the list which was handed over to him by the Yobe State Government, contained the name, age and class of each of the 110 students.
He said that out of the 110 missing girls, eight were in JSS1, 17 in JSS2, 12 in JSS 3, 40 in SS1, 19 in SS2 and 14 in SS3.
The girls' ages range from 11 to 19 years.
He said the list which contained the contact address and phone number of each missing girl, was verified by a 26-member Screening Committee.
The committee, according to the minister, included: the Executive Secretary, State Teaching Service Board, Musa Abdulsalam, Director, Schools' Management, Ministry of Education, Shuaibu Bulama and the Principal of GGSTC, Adama Abdulkarim.
Others were the two Vice Principals, Ali Mabu and Abdullahi Lampo, Admission Officer, Bashir Ali Yerima, and the Form Masters for all the classes.
The minister said that the Chief of Air Staff, Air Marshal Sadique Abubakar had relocated to Yobe to personally supervise search for the girls.
He said the Nigerian Air Force (NAF) had earlier deployed more platforms to the North-east for the search, as the security agencies ramp up their efforts to locate and rescue the girls.
The minister said that as at 6 p.m. on Monday, the NAF had flown a total of 200 hours, while conducting the search.
It will be recalled that the minister had twice led a Federal Government delegation to Yobe since the tragic incident occurred.
The list:
GOVERNMENT GIRLS' SCIENCE AND TECHNICAL COLLEGE (GGSTC) DAPCHI
SUMMARY OF COMPREHENSIVE LIST OF MISSING STUDENTS
| | | |
| --- | --- | --- |
| S/NO | YEAR GROUP | TOTAL NUMBER OF MISSING STUDENTS |
| 1 | JSS 1 | 08 |
| 2 | JSS2 | 17 |
| 3 | JSS3 | 12 |
| 4 | SS1 | 40 |
| 5 | SS2 | 19 |
| 6 | SS3 | 14 |
| | Total | 110 |
COMPREHENSIVE LIST OF MISSING STUDENTS
| | | | |
| --- | --- | --- | --- |
| S/NO | NAME OF STUDENTS | AGE | CLASS |
| 1 | Aisha Abdullahi | 12 years | JSS1 |
| 2 | Fati Muhammed | 11 years | JSS1 |
| 3 | Fatima Modu Aisami | 12 years | JSS1 |
| 4 | Fatima Abdullahi Ali | 12 years | JSS1 |
| 5 | Salamatu Garba | 13 years | JSS1 |
| 6 | Adama Garba | 12 years | JSS1 |
| 7 | Hadiza Ali | 11 years | JSS1 |
| 8 | Aisha Adamu Alkali | 11 years | JSS1 |
| 9 | Hadiza Muhammed Musa | 14 years | JSS2 |
| 10 | Fatima Usman | 14 years | JSS2 |
| 11 | Rabi Yahaya Tela | 13 years | JSS2 |
| 12 | Zainab Usman | 14 years | JSS2 |
| 13 | Fanna Muhammad | 13 years | JSS2 |
| 14 | Zainab Mohammed Bama | 13 years | JSS2 |
| 15 | Fatima Yahaya | 13 years | JSS2 |
| 16 | Amina Yahaya | 13 years | JSS2 |
| 17 | Maryam Aliyu Mabu | 14 years | JSS2 |
| 18 | Fatima Ishaku Aliyu | 13 years | JSS 2 |
| 19 | Habiba Nuhu Dan-Inuwa | 14 years | JSS2 |
| 20 | Zainab Bukar Abba | 14 years | JSS2 |
| 21 | Fatsuma Ali | 14 years | JSS2 |
| 22 | Salamatu Isiyaku | 14 years | JSS2 |
| 23 | Hauwa Bulama | 14 years | JSS2 |
| 24 | Rabi A. Nasir | 14 years | JSS2 |
| 25 | Khadija Sule | 13 years | JSS2 |
| 26 | Aisha Muhammad Aminami | 14 years | JSS3 |
| 27 | Aisha A. Maina | 14 years | JSS3 |
| 28 | Fatima Bashir | 14 years | JSS3 |
| 29 | Fatima Muhammad | 14 years | JSS3 |
| 30 | Fatima Aji Hassan | 15 years | JSS3 |
| 31 | Hadiza Sale | 14 years | JSS3 |
| 32 | Khadija Suleiman | 15 years | JSS3 |
| 33 | Walida Adamu | 15 years | JSS3 |
| 34 | Maimuna A. Hassan | 14 years | JSS3 |
| 35 | Maryam Ibrahim | 14 years | JSS3 |
| 36 | Zainab Abubakar Yakubu | 13 years | JSS3 |
| 37 | Amina Haruna | 15 years | JSS3 |
| 38 | Falmata Wakil | 15 years | SS1A |
| 39 | Maimuna Musa | 16 years | SS1A |
| 40 | Sahura Jibrin Muhammad | 15 years | SS1A |
| 41 | Fatima Bukar | 16 years | SS1A |
| 42 | Hajara Yahaya Tela | 15 years | SS1A |
| 43 | Hajara Ali | 16 years | SS1A |
| 44 | Maryam Adamu Muhammad | 14 years | SS1A |
| 45 | Fatsuma Muhammad | 15 years | SS1A |
| 46 | Hauwa Salisu | 14 years | SS1A |
| 47 | Amina Adamu | 16 years | SS1B |
| 48 | Zara Musa | 16 years | SS1B |
| 49 | Aisha Abba Aji | 16 years | SS1B |
| 50 | Fatima Alhaji Ari | 15 years | SS1B |
| 51 | Aisha Alhaji Deri Dokta | 16 years | SS1B |
| 52 | Maryam Usman Sale | 15 years | SS1B |
| 53 | Hassana Gambo | 15 years | SS1B |
| 54 | Hauwa Usman | 16 years | SS1B |
| 55 | Hajara Muhammad Gidado | 16 years | SS1B |
| 56 | Zara Muhammed Lawan | 15 years | SS1C |
| 57 | Khadija Grema Dabuwa | 15 years | SS1C |
| 58 | Aisha M. Wakil | 15 years | SS1C |
| 59 | Amina Abubakar | 16 years | SS1D |
| 60 | Fatima Modu Abubakar | 15 years | SS1D |
| 61 | Fatima Ibrahim | 16 years | SS1D |
| 62 | Zara Grema Dabuwa | 15 years | SS1D |
| 63 | Maryam Adam Kontoma | 15 years | SS1D |
| 64 | Falmata Wakil | 16 years | SS1D |
| 65 | Maimuna Umar Alhassan | 15 years | SS1E |
| 66 | Hajara Adamu Abubakar | 15 years | SS1E |
| 67 | Aisha Modu Bamba | 16 years | SS1F |
| 68 | Bintu Yerima | 16 years | SS1F |
| 69 | Zara Grema | 16 years | SS1F |
| 70 | Fatima Adamu | 16 years | SS1F |
| 71 | Fatsuma Abubakar Jambo | 16 years | SS1F |
| 72 | Maryam Mustapha | 15 years | SS1F |
| 73 | Fatsuma Abdullahi | 15 years | SS1F |
| 74 | Aisha Usman | 15 years | SS1F |
| 75 | Fatsuma Ibrahim Isa | 16 years | SS1F |
| 76 | Fatima Hassan Mustapha | 16 years | SS1F |
| 77 | Leah Sharibu | 16 years | SS1F |
| 78 | Maryam Bashir | 17 years | SS2A |
| 79 | Maryam Muhammed | 17 years | SS2A |
| 80 | Maryam Ibrahim Adam | 16 years | SS2A |
| 81 | Hauwa Manuga Lawan | 16 years | SS2A |
| 82 | Hauwa Saidu Abubakar | 17 years | SS2B |
| 83 | Falmata Alhaji Inuwa | 16 years | SS2C |
| 84 | Zara Muhammed | 17 years | SS2C |
|  85 | Fatima Muhammed | 16 years | SS2C |
| 86 | Maryam Usman | 16 years | SS2C |
| 87 | Aisha B. Danjuma | 18 years | SS2C |
| 88 | Aisha Mamuda | 16 years | SS2D |
| 89 | Zara Tijjani | 16 years | SS2D |
| 90 | Aisha A. Adamu | 16 years | SS2E |
| 91 | Fatsuma Sani | 17 years | SS2E |
| 92 | Fatima Usman | 17 years | SS2E |
| 93 | Amina Abdullahi | 18 years | SS2F |
| 94 | Aisha Kachalla | 16 years | SS2F |
| 95 | Maryam Kalwuri | 17 years | SS2F |
| 96 | Bintu Usman | 17 years | SS2F |
| 97 | Fatima A. Grah | 18 years | SS3C |
| 98 | Habiba Musa | 18 years | SS3C |
| 99 | Hajara Karumi | 18 years | SS3C |
| 100 | Karima Inusa | 18 years | SS3C |
| 101 | Falmata A. Audu | 18 years | SS3C |
| 102 | Hafsat A. Grah | 18 years | SS3D |
| 103 | Fatima Makinta Liman | 19 years | SS3D |
| 104 | Aisha Muhammad Jakusko | 18 years | SS3D |
| 105 | Hadiza Muhammed | 18 years | SS3D |
| 106 | Hauwa Mohammed Idris | 18 years | SS3E |
| 107 | Aisha M. Bukar | 18 years | SS3E |
| 108 | Hadiza Abubakar | 18 years | SS3F |
| 109 | Fanna Muhammed Modu | 17 years | SS3F |
| 110 | Maryam Muhammed | 18 years | SS3F |
By Rotimi Ijikanmi