The Global Environment Facility (GEF) in conjunction with the United Nations Development Programme (UNDP) has commenced the implementation of a programme aimed at promoting the sustainable management and resilience of ecosystems as a means to address food insecurity.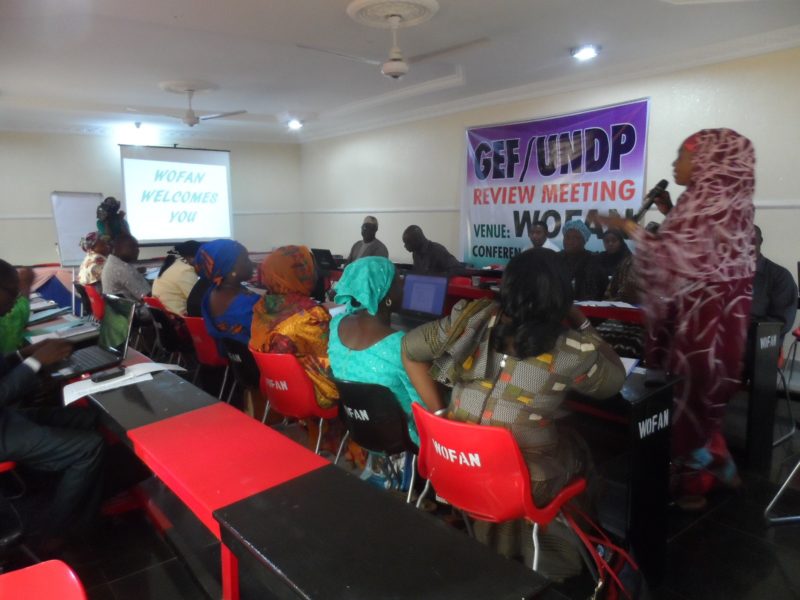 Titled "Fostering Resilience and Sustainability for Food Security in sub-Saharan Africa", the project involves states in the nation's North East, North West and the North Central regions.
The programme will support efforts to:
scale-up more sustainable and more resilient approaches, practices and technologies including innovative approaches to improving soil health, water resource management and vegetation cover with direct benefits to the most vulnerable land users;
promote impacts at scale, by fostering supportive policies and incentives for smallholder farmers to adopt sustainable and resilient practices;
increase private sector investment in climate-resilient and low-emission food value-chains; and
promote mechanisms for multi-stakeholder coordination, planning and investment in Sustainable Land Management at scale.
At a two-day consultative meeting held last week in Kano, community-based organisations (CBOs) and non-governmental organisations (NGOs) from Kano, Gombe, Nasarawa, Adamawa, Benue, Katsina and Jigawa states attempted to develop the relevant information/data on the actual situation on ground in the proposed regions of focus, in the bid to foster food security and resilience in the Sudan Sahel region of Nigeria.
Hajia Salamatu Garba, executive director of the Women Farmers Advancement Network (WOFAN), listed poverty, climate change, gender discrimination, socio-cultural/socio economical/socio-political limitations, food wastes/losses, diversion of farmland from food production, and conflict/natural disasters as challenges militating against food security in the northern part of the country.
To address the situation, she called for improvement of livelihoods and promotion of opportunities for women and youth.
She said: "Give women and youths an opportunity and it amounts to sustainable food security for the nation. The authorities should promote relevant post-secondary, vocational and business training. Data collection, record keeping, financial management services and training should be targeted to enhance agricultural productivity.
"While food security strategy should continue to prioritise nutrition and nutrition-sensitive agriculture, government should promote better livestock practices, promote resilience, link emergency relief to long-term security, invest in research and extension, invest in rural infrastructure, strengthen domestic markets, and strengthen farmer organisations/citizen participation."
Giving a brief overview of project and implementation model of "Increasing Groundnut Productivity of Small-holder Farmers in Ghana, Mali and Nigeria," a project being promoted by USAID and the International Crop Research Institute for the Semi-Arid Tropics (ICRISAT), Dr M. Vabi, country director of ICRISAT Nigeria, listed the project objectives to include:
Enhancing farmers' knowledge of improved groundnut production technologies including complementary crop management practices
Enhancing seed production and marketing at a grand scale
Enhancing farmers' knowledge and diffuse improved aflatoxin management technologies
Enhancing farmers' access to small scale processing technologies
Furthermore, he identified the scheme's five strategic implementation approaches as:
Engaging and delivering with credible partners of the public and private sectors, and civil society organisation as well as individual resource persons/institutions
Using on-farm demonstrations and other appropriate delivery mechanisms that enhance mutual learning and sharing amongst groundnut value chain actors
Strategic simultaneous handling of geographical and institutional Upscaling – States, LGAs, Actors at different Stages of the value chain, etc.
Engaging and securing media organs – federal, state and private
Monitoring from established baselines situations
In a presentation, Professor Emmanuel Oladipo submitted that agriculture accounts for about 24% of the nation's GDP and employs about 70% of the labour force in Nigeria. According to him, it is dominated by about 15 million smallholders (mostly women) who account for over 90% of the national food.
Average prevalence of food inadequacy and domestic food price volatility between 2000 and 2013 were 12% and 13% respectively, he noted adding that food imports despite its abundance of arable land resources stood at about $11 billion in 2012.
He listed the main drivers of food insecurity to include: rapidly the growing population, changing and uncertain climate, shrinking farming workforce, poor infrastructure, flat crops yields over the past decades, and conflicts in the northern agro-ecological zones (AEZs), where most of the grains are produced.
"All these put food security in danger unless the decline in food production is offset by vast increase in-country food production and food imports despite infrastructure, production and market support services constraints," he said.
Prof Oladipo disclosed that specific project sites for the GEF/UNDP scheme are yet to be determined, but focus will be the sudan-sahelian AEZ where agro-pastoral millet sorghum and cereal-root crop mixed production systems are practiced.
His words: "The zone constitutes the grain basket of Nigeria and produces most of the grains (such as maize, millet, sorghum and wheat) and legumes (such as cowpeas and groundnuts) that provide the main staple diet of the people.
"The zone is subject to marked inter-annual rainfall variability resulting in periodic droughts. It is mainly of ferruginous tropical soils that are highly weathered and laterised. It is characterised by sandy-fixed undulating topography."