Over 15,000 drivers have been arrested in Lagos and Ogun states for using worn-out tyres, as well as driving under the influence of drugs and alcohol.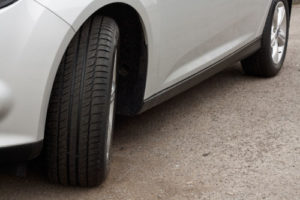 The Corps Marshal, Federal Road Safety Corps (FRSC), Mr. Boboye Oyeyemi, who announced this in Lagos at a recent forum at the FRSC command in Ojodu Berger, warned that the Corps would no longer accommodate second hand tyres popularly called "tokunbo tyres" on Nigerian roads and had begun a public sensitisation on that, which would be followed by the total clamp down on such used tyres.
The Corps Marshal, who was represented by the FRSC Zonal Commanding Officer in charge of Lagos and Ogun, Assistant Corps Marshal Nsebong Akpabia, explained that, based on investigations carried out between 2011 and 2015, tyre-related problems were responsible for many accidents that claimed lives.
He said: "Available statistics from 2011 to 2015 depict that 5,288 vehicles were involved in tyre-related crashes across the country. In FRSC Zone 2 command, (Comprising Lagos and Ogun) tyre violation was reported as principal causative in 6.51 percent of crashes recorded in 2015 while 18 cases of tyre burst have also been recorded from January to April 2016. In response to this, the Zone has made tyre violation a critical thrust of enforcement which culminated in arrest of 7,751 tyre violators between January and April, 2016.
"According to the World Health Organisation (WHO), about 1.2 million persons die on the roads while about 20 to 50 million others sustain different degrees of injuries annually, thereby making road crashes a major developmental and health issue throughout the World. The developing countries (Nigeria inclusive) who has less than 48 percent of world population bear the greatest burden of road fatalities as they account for over 90 percent of the world road fatalities. This is the sad reality we must contend with to save our generation and our future. In this contention, one elemental risk factor that stares one on the face, like a monster, is the menace of bad tyre abuse that has sent thousands to their early grave.
"Desire for superior economic advantage has ignorantly been advanced as underlining cause of most tyre violations in some quarters, but this cannot in anyway pass the test of logical reason on the basis of economic prudence and safety imperative. Of what importance is the money a man labours to save which he would not live to enjoy? Today, the use of expired tyres, worn-out tyres, sub-standard tyres, re-treaded tyres, stitched tyres, part-worn tyres (or tokunbo) as well as poor tyre maintenance are dangerously comprising highway safety."
Oyeyemi urged marketers to desist from the unprofessional act of deceiving their customers that tokunbo tyres are better than new ones just to make profits.
He adds: "Unfortunately, many Nigerians that even desire to purchase quality tyres for their vehicles are being duped by mischievous dealers who capitalise on their ignorance to sell expired, re-treaded and sub-standard tyres to them. This is the ugly situation that attest to existence of knowledge gap in tyre safety among Nigerian populace. It makes this sensitisation and by extension our gathering here a necessity.
"Obviously, we all have a part to play in this campaign beyond listening to presentations on identification of key parameters to determine good tyres and internalising it. Nigerians are the importers, marketers, maintenance technicians (or vulcaniser) as well as users of these tyre that are daily causing wanton loss of lives and property on our highways. Why don't we make a good change of heart and be committed to doing things right?
"If you are boarding commercial vehicle, endeavour to check the tyres for basic quality indicators. In case of bad tyre(s), you should bring it to the driver's or park management's attention and insist on compliance. The fare you paid should not be a fare to early grave. If they refuse to comply, report to FRSC on 122 or 08077690200.
"I have issued my directives to my officers to commence aggressive enforcement immediately this period of enlightenment is over. Call them, I can assure you of their prompt response. Let it be clarified that the enforcement thrust will target all different tyre conditions that could jeopardise safe driving."
Oyeyemi said his men on patrol would impound any vehicle with bad tyre(s) including expired tyres, worn-out tyres, wrongly fitted tyres, and sub- standard tyres, and that he or she would be made to replace all the tyres before the vehicle is released.
In a lecture, an automobile expert, Mr. Henry Olewunel, stressed that tyres expire after four years, and advised car owners to play safe by buying only new tyres and changing them after four years.
Olewunel further advised that when buying a tyre attention should be paid on its manufacturing and expiry dates, and that for it to last, it should be pumped according to specification, adding that drivers should fix their best tyres at the back for maximum protection.
Responding, an executive member of the Lagos State National Union of Road Transport Workers (NURTW), Lagos, Comrade Tokunbo Seriki, who is the union's branch Chairman in  Ojodu area,  promised to take the message to his people, hoping that all would accept it in good faith since it is for their own safety.
A donation of three motor bikes was made to the FRSC to assist it in patrol along the Lekki-Epe Expressway, which has been identified to record high accident cases. Receiving the donations, the representative of the Corps Marshal appreciated different organisations who have deemed it necessary to partner with the corps in recent times.
The Corps Marshal said: "The Corps appreciates in no mean measures the various individuals, organisations and opinion groups that have continued to partner with FRSC on the project of building safer highways in Nigeria. The donation of two patrol vehicles and bikes to Lagos State Command by his Excellency, Governor of Lagos State, is veritably appreciated. Pertinent also to mention among numerous others is the efforts of Arrive Alive Nigeria who in partnership with Chevron recently donated power bikes to the Corps for enhancement of its patrol operations along the Lekki-Epe highway. Let it be reiterated here that the Lekki-Epe highway has become another high risk route of concern on the account of excessive speeding, driving under influence of alcohol, lane indiscipline, overloading and use of phone. These are quite dangerous and unsafe acts everyone must avoid."
In attendance at the forum were the representatives from the Police, Lagos State Government, Special Marshals and companies who are stakeholders in the "Arrive alive initiative", being a coalition of professionals with the mandate of drastically reducing accidents along the Lagos/Ogun corridor.
By Innocent Onoh