At least 16 people were killed as Cyclone Amphan slammed the Bangladesh coastlines after making landfall in the country onthe night of Wednesday, May 20, 2020, an official said on Thursday.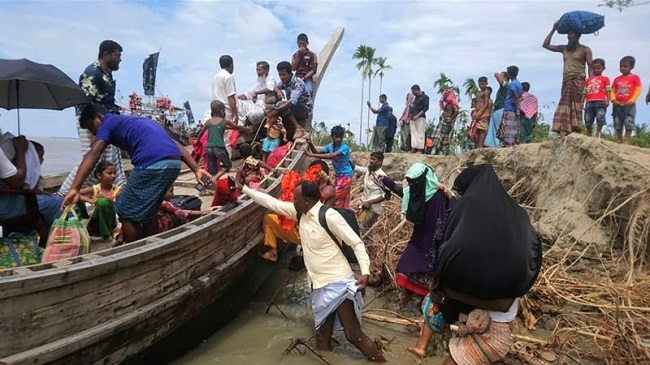 Ayesha Akhter, Assistant Director at the Health Emergency Operations Centre, told Xinhua that the cyclone killed 16 people in about a dozen districts.
Almost all the cyclone deaths occurred as a result of falling trees, said Ayesha.
Many Bangladesh coasts have been battered by gusty winds, which also caused widespread power and water outages.
Dozens of villages in the coastal districts have reportedly been flooded and many susceptible houses have been damaged fully or partially.
With sustained wind speeds of 270kmh, whose energy was intensified by the record water temperatures in May, the storm is believed to be stronger than the 1999 super cyclone, and the joint-strongest on record in the North Indian Ocean.
Sohanur Rahman, YouthNet for Climate Justice, Bangladesh, said: "Cyclone Amphan, which is about to hit Bangladesh, will worsen the situation of our population, which is struggling to control the Covid-19 pandemic and is already trapped due to measures of isolation and social distancing.
"While Bangladesh has an efficient system of cyclone shelters, most of the coastal communities that will be impacted are scared to move to those shelters, as it will be almost impossible to practice social distancing norms there."
Every year Bangladesh suffers from climate related disasters including floods, droughts and salinisation of freshwater supplies leading to the displacement of 100,000's of people. There are over 40 million people living in highly vulnerable conditions on the banks of the Delta and the Sundarbans provide a vital buffer zone against the frequent cyclones and storms that pound the Bangladeshi coast.
As like the largest mangrove forest across the world and a strong ecosystem, it already proved to be a big shield during the previous flood and cyclones, when protecting thousands of human lives and animal species.
Sharif Jamil, Coordinator, Waterkeepers Bangladesh, said: "Climate breakdown didn't give us any breath while we are facing the pandemic. Fortunately, we still have the Sundarbans forest, which will act as a protective barrier like it had done before. Yet, this is another stark alert of how important it is to protect our natural heritage more than ever, instead of open it up to coal ventures."
Climate change is said to be increasing the damage that cyclones like Amphan cause in several ways, including increasing sea surface temperatures and rising sea levels, increasing rainfalls during the storm, and causing storms to gain strength more quickly.
Stronger cyclones are said to have become more common across the world due to climate change, and the strength of cyclones affecting the countries bordering the North Indian Ocean has been increasing as the planet has warmed.
Also, sea levels in the North Indian Ocean have risen more quickly than other places in recent years. According to a study, India and Bangladesh could experience dramatic annual coastal flooding by 2050, affecting 36 million people in India and 42 million in Bangladesh.