The Nigeria Customs Service, Pangolin Conservation Guild Nigeria and Nigerian Conservation Foundation (NFC) on Wednesday, February 13, 2019 called for stiffer penalties against poachers and those involved in illicit trading of Pangolin.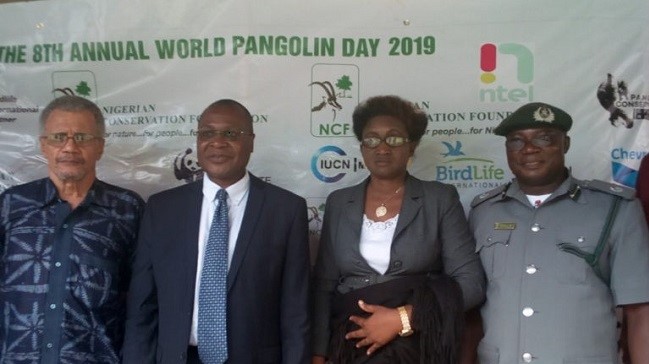 They said at an event marking the 2019 World Pangolin Day in Lagos that this would help protect Pangolin, an endangered mammal, from going into extinction.
The event was organised by the NCF in collaboration with the Pangolin Conservation Guild Nigeria with the theme: "Pangolins and Politics''.
Pangolin is a harmless African and Asian mammal with body covered with horny overlapping scales. It has small head with an elongated snout.
It has a long stick tongue for catching ants and termites and a tapering tail. It also has large protective keratin scales covering the skin; they are the only known mammals with this feature.
Dr Olajumoke Morenikeji, an Associate Professor, Parasitology/Ecology and Environmental Biology Unit, Department of Zoology, University of Ibadan, said: "There are laws; there is the endangered species act, but the major problem we have is the enforcement of the law.
"For example, if you are caught with an endangered species, in the first instance, you pay N5 million from the endangered specie act.
"Second offence, you are not going to have the opportunity to pay a fine because you will be jailed; if these laws are enforced, there will be less poaching and less trafficking.
"So, to ensure the laws work, you must enforce them,'' Morenikeji said.
Also, Dr Muhtari Aminu-Kano, the Director-General and CEO of the NCF, said: "Pangolins live across parts of Nigeria, especially the Savannah; now we have lost most of the pangolins.
"They are trafficked between countries and because of the trafficking between Nigeria and Asia, they become more endangered.
"Pangolins from Nigeria and surrounding countries are coming into Nigeria and being shipped abroad; that is giving Nigeria bad image abroad and
"We need to stop that, not just for our image, but for our ecosystem and for our future generations to benefit from this important and useful animal.
"There has to be stricter enforcement of the law against this act," Aminu-Kano said.
He explained that pangolins are important to the ecosystem.
"They are part of the food chain; they give us such service which is unknown to us and they are in terrible danger because they are the most trafficked mammal in the world.
"They are important animals; important to the food chain; they eat termites and ants and a lot of them burrow under the soil.
"They are very important to the functioning of the ecosystem; they are good for soil fertility, because of the burrowing they do and the churning and turning over of soil.
"They are also very important as feeders on ants and termites so they can stop them being pests in certain places,'' the the director-general said.
On the link between Pangolin and Politics, he said: "Pangolins are big 'money makers', a kilogramme of pangolin scales costs $10,000 to N15,000 abroad.
"The Customs said today that last year alone, over 15,000 kilogrammes of pangolin scales were seized.
"This is not to talk of the ones that escaped attention and actually went out; now that total amount of money is about 900,000,000 dollars (nine hundred million U.S dollars).
"So, anywhere you talk of those million dollars in terms of money you know politics is involved, people involved must be well connected and influential.
"In order to stop that trade or do something about it, you need to address that political dimension,'' Aminu-Kano said.
According to him, ways of addressing it include strict and better law enforcement because it's giving Nigeria a bad image abroad; those things are going out of our airports and our seaports.
"Also, the second thing is awareness and orientation among people who sell it to this middle people who sell it abroad.
"Another thing we can do to address it is to provide alternative livelihoods to the hunters that get it and bring it out to the people.
"Also, through immigration, because most of the middle people involved, the middlemen are actually Chinese who are coming into the country.
"The porosity of our seaports and borders need to be checked because that is the gateway through which we go out.
"The fact that customs seized these shipments usually buried in other shipment of charcoal or logs of processed wood.
"Customs don't have the facilities to lift every log in a container to find out what is beneath it; we need to address that too,'' Aminu-Kano said.
Also, Assistant Comptroller Mutalib Sule, Nigeria Customs Service, Federation Operation Unit, Zone A, Ikeja, Lagos, highlighted some of the challenges facing the service.
Sule said that NCS was facing a lot of difficulties in its mission to seize and arrest culpable individuals in connection with "this highly profitable illicit trade of pangolins".
He listed the challenges to include dangerous terrains while making arrests, resistance, attacks, poor reward system and lack of enforcement of laws against trafficking as well as judicial system.