Germany and India want to cooperate more closely in environmental and climate policy.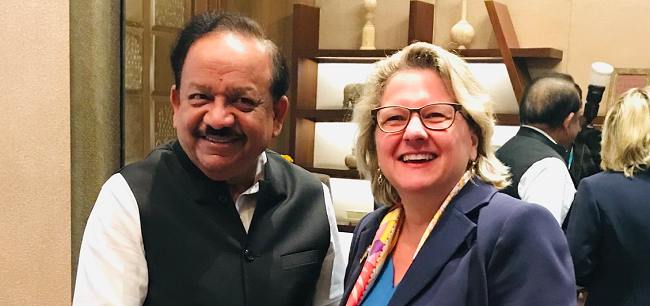 German Environment Minister, Svenja Schulze, and her Indian counterpart, Harsh Vardhan, on Wednesday, February 13, 2019 in New Delhi struck an agreement at the third German-Indian Environmental Forum.
Germany will support Indian climate protection projects with an additional €35 million in the coming years. In addition, both governments want to engage in the prevention of marine litter.
Schulze said: "We need India to solve the global environmental problems. Whether it's fighting climate change, fighting littering the seas or protecting biodiversity, India is one of our key partners."
The third German-Indian Environmental Forum is themed: "Cleaner Air, Greener Economy – cleaner air, greener economy". Both countries exchange ideas for solutions for good air quality and for the development and expansion of the water and circular economy. It also deals with climate and sustainability strategies for the modernisation of economies.
Schulze and Vardhan agreed that funds from the International Climate Initiative of the German Federal Ministry for the Environment should provide an additional €35 million for sustainable forest projects, network expansion and the storage of renewable energies. In addition, it was about opportunities for cooperation in the disposal of waste that has previously reached the sea.
Organisers of the Environmental Forum are the two Ministries of the Environment, the Asia-Pacific Committee of German Business and the Indian Federation of Industry and Commerce. As part of the two-day visit, Schulze will also visit the local green initiative "Green the map", which recycles, processes and provides environmental education for young people in Neu Dehli, as well as the Siemens plant in Mumbai and the plant of the Indian company Tata Steel.