As nations across the globe gather for the UN climate conference (COP25) in Madrid, Spain, with various expectations and agendas, Nigeria's Minister of Environment, Dr. Mohammad Mahmood Abubakar, has tasked Nigeria delegates to the summit to actively engage in international climate policy negotiations that will facilitate the realisation of the country's Nationally Determined Contributions (NDCs).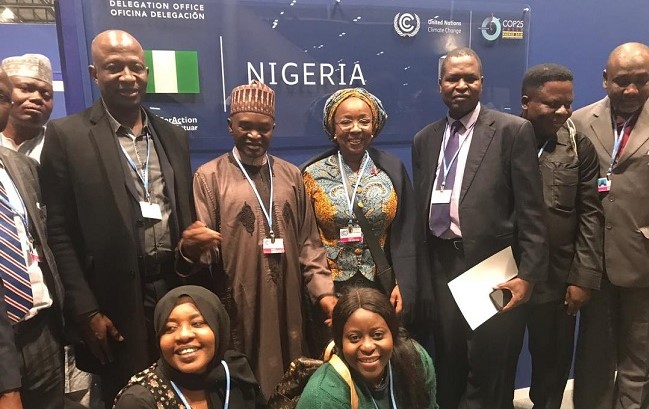 The minister, who sees climate change not only as a disaster but also as an opportunity, affirmed: "Nigeria sees climate change as an opportunity, thus approaching it to help diversify its economy and build resilience towards achieving sustainable development, lifting its people out of poverty and providing greater physical and economic security."
Nigeria participation at this year's conference on climate change, officials disclosed, will be characterised by its commitment to implementing an all-inclusive natural response to climate change through emission reduction and optimal solution to climate change response.
"This is in addition to other previous concerted efforts by the Federal Government of Nigeria at reversing the effects of climate change which include the signing of the Paris Agreement by President Muhammadu Buhari in 2016, a step that demonstrated Nigeria's commitment to the global efforts of reversing the effect of climate change and open the opportunity for reducing greenhouse gas emission unconditionally by 20 percent and with international support by 45 percent."
Towards realising the objectives of the Paris Agreement, Nigeria issued a Sovereign Green Bond becoming the first African country and fourth globally to achieve the milestone towards financing green projects.
The proceed of the first trench of the Green Bond was deployed to fund green projects which include provision of solar powered electricity to higher institutions through the energising education scheme and afforestation activities.
The second trench of the Green Bond has been issued and fully subscribed to fund environmental projects across five sectors (Water, Transportation, Agriculture, Oil and Gas and; Power/Energy).
The minister said: "Nigeria remains focused towards its commitment to meeting its Nationally Determined Contributions as re-affirmed by President Muhammadu Buhari during the recently concluded 2019 United Nations Climate Summit where he reiterated his administration's commitment to increasing the nation's climate ambitions."
According to him, Nigeria has a high expectation as delegates have been charged to among other things ensure and support the quick resolutions of all outstanding issues pertaining to the Paris Rulebooks and carried over from COP24.
Nigeria, he added, will also be leading other African countries to call on developed countries to examine which new commitments and initiatives they can support and implement as well as investigate how these initiatives will unlock and strengthened nationally determined commitment and national action by 2020, with the hope that these will in turn strengthen climate ambition, long term decarbonisation and increase resilience.
Faced with the challenges of increase vulnerability to extreme weather events, Nigeria expects to see to the conclusion of the review of the Warsaw International Mechanism ahead of updating its Nationally Determined Contributions to include additional sectors (Water and Waste Management),
Nigeria will also explore the links in the different negotiating themes and translate the complexity and outcomes to the non-state actors in a business and policy relevant manner, including articulating the opportunities arising out of the international climate agenda that can help mobilise the resources and expertise required to finance its enhanced climate action.