The Federal Government of Nigeria has been urged to shift from fossil fuel to renewable energy sources by divesting from oil and gas and coal to renewable energy sources.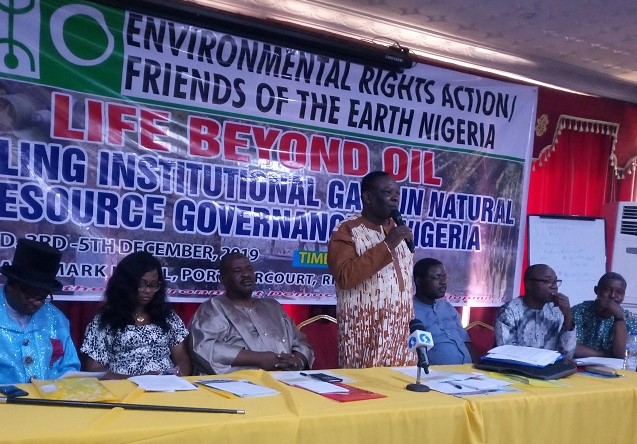 Dr Godwin Uyi Ojo, Executive Director, Environmental Rights Action/Friends of the Earth Nigeria (ERA/FoEN), made the call on Wednesday, December 9, 2019 in Port Harcourt, Rivers State, during the organisation's two-day 12th National Environmental Congress that had "Beyond Oil: Tackling Institutional Gaps in Natural Resource Governance" as its theme.
In his opening remarks, he also called for the establishment of a $100 billion Rehabilitation Fund for the clean-up and remediation of the "hydro-carbon soaked" Niger Delta. "Until the region is cleaned up and remediation carried out, the region will remain poor and restive," he warned.
To correct the institutional gaps and make meaningful progress in the scheme of things, Dr Ojo charged the authorities to conduct independent monitoring of the ongoing Ogoni clean-up to ensure proper clean-up and remediation. According to him, the Key Performance Indicators researched by ERA and its allies are now before civil society organisations (CSOs) and the relevant government agencies including the National Oil Spill Detection and Response Agency (NOSDRA) and Hydrocarbon Pollution Remediation Project (HYPREP) to transform to action.
Besides protecting community land rights and tenure to ensure proper land management that promotes equity and fairness, he also clamoured the establishment of a Climate Change Commission to coordinate activities and drive the process of adaptation and mitigation efforts in order to attract finance and technology that is required for change.
On energy, he said: "There is need to empower communities for a decentralised energy transition. There are some indications that Nigeria made some efforts toward reducing its carbon footprints. It has put in place the Renewable Energy Master plan of 2006 that require implementation; the Green Bonds, first in Africa, although it excluded CSOs and Communities; and has also signed Memorandums of Understanding with 14 solar power companies to produce 1,100MW of electricity that transmit power through the national grid. There are concerns that this may not be feasible given the deplorable state of the grids.
"Although Nigeria has made some strides in the energy transition, such effort will generate greater results if local communities are targeted for community empowerment for mini-grid or non-grid energy systems that will provide electricity and drive the SMEs to generate green jobs and reduce the rate of poverty. The alternative to mobilise, support and coordinate local communities and small businesses to participate in producing and consuming clean renewable energy across the country is urgently required."
Concerning the ongoing COP25 holding in Madrid, he urged Nigeria to make the commitment to reduce its dependence on oil, end gas flaring, and reduce carbon emissions from the modes of production and consumption.
"It must make the commitment to divest from fossil fuel development and invest more in renewable energy sources and halt the importation of petrol and diesel engine combustion cars by 2030. Nigeria must not become a dumping ground for obsolete machinery from industrailised countries that could further compound the high cocktail of toxic pollution in the country," Ojo submitted.
He said that the theme of the Congress was informed by the fact that is hardly any institutional change to address challenges related to issues like:
How Nigeria responding is to a post petroleum economy in the management of land, forests, water, and minerals resources in the face of climate change,
How the decades of environmental and social degradation of the Niger Delta region will be accounted for, and
How Nigeria will transit from oil dependency to renewable sources of energy.