In 2000, flood in Mozambique was responsible for 800 deaths, 329,000 displaced people and almost two million people affected in all. Between July 2011 and 2012, the entire East Africa region suffered a severe drought, said to be "the worst drought in 60 years."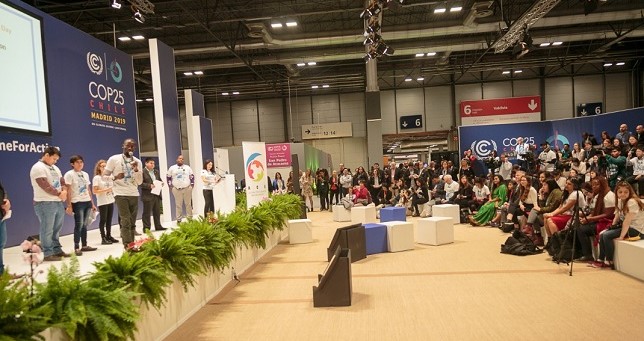 Across the Lake Chad region, the drying up of the water bodies has badly affected over 17 million people in North-Eastern Nigeria, Cameroon's North, Western Chad and South-East Niger.
By 2050, between 350 million and 601 million people are projected to experience increased water stress due to climate change across Africa with women, children and the elderly more vulnerable. Driven by this, young people across the African continent are putting their feet on the ground and striving to change this narrative.
Speaking at the opening ceremony of the Young and Future Generations Day at COP 25 in Madrid, Nigeria's Seyifunmi Adebote representing youths from the African continent shared inspiring stories of how African youths are leading climate action by implementing mitigation and adaptation projects, proposing innovative solutions, driving social progress and inspiring political change.
Addressing high-level members of the UN with hundreds of youth leaders and climate change activists present, Adebote said, "I understand that the future of over 225 million youths across the African continent stands at great risk, so I speak with a huge sense of responsibility and urgency. I have not come here to point fingers and accuse our leaders; we are here to bring solutions to the table.
"In Nigeria, we recently harvested over 1000 youth-led, climate-focused creative ideas, some of which are now being groomed to into profitable businesses. What matters now is that we must hold leaders to account, for promises made and agreements signed."
Adebote spoke alongside other youth delegates representing other regions of the world, such as Zuzanna Borowska from Poland, Kisha Erah Muaña from the Philippines, Irfan Ullah from Pakistan, Komal Kumar from Fiji and Juan Jose Martin from Chile.
UNFCCC's Executive Secretary, Patricia Espinosa, had earlier called on the youth to help in educating people around the world.
"For every decision we make in our life, we need to think about the consequences of that decision" she said.