New Report "Dam Violence: The Plan That Killed Berta Cáceres" launched at COP23 denounces Honduran state agents and DESA dam executives as intellectual authors of assassination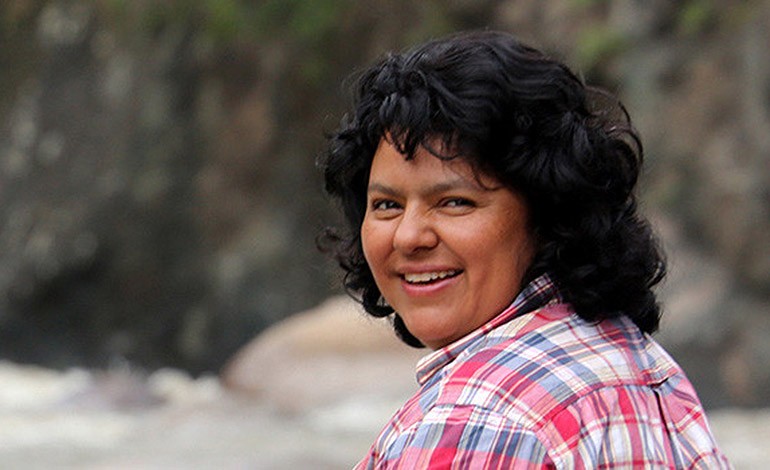 Over a year after the assassination of the Honduran environment defender Berta Cáceres, the Justice for Berta Campaign brought the gruesome incidence to the fore at the UN climate change summit (COP23) in Bonn, Germany. Berta Cáceres, one of the most internationally-recognised environmentalists, was gunned down in her home for defending the land, water and human rights of the Lenca People and has since become the epitome of the violence such activists suffer.
At COP23, the Justice for Berta Campaign and the It Takes Roots delegation officially delivered the report entitled "Dam Violence: The Plan That Killed Berta Cáceres" to the Honduran government, which has yet to meet with the family and organisation of the murdered leader since the report's release. The head of the Honduran delegation, Mr. José A. Galdames, Secretary of State for the Ministry of Energy, Natural Resources, Environment and Mining, received the report and invited the Campaign for Justice for Berta and the report's authors to present it and testify in Honduran court.
The report is the result of a year-long independent investigation by the International Advisory Group of Experts (GAIPE) made up of specialists in international human rights law, international criminal law and comparative criminal law. The GAIPE report explicitly names the authors of the assassination and uncovers a plot against Berta Cáceres that was months in the making and included senior executives of DESA, the Honduran company holding the dam concession.
Over 180 international human rights organisations are supporting COPINH in demanding the arrest, trial and conviction of those who ordered and planned the murder of Berta Cáceres and the persecution of COPINH and her family. The case of Berta Cáceres exemplifies the urgency of strengthening protections for land and water defenders as a central question within the international climate negotiations.
In another achievement for the Campaign for Justice for Berta, the daughter of the beloved leader, Bertha Zúniga Cáceres, joined a press conference by video of international land defenders at COP23 to denounce the state and corporate intellectual architects of the assassination of her mother, Berta Cáceres.
Bertha Zúniga, General Coordinator of COPINH and daughter of Berta Cáceres, said: "As COPINH, as the family of Berta, and as the international community, we are joining to demand that justice prevail, not just for Berta Caceres but for all the men and women who defend land and territory. Not just the Lenca People, but Indigenous People who are on the frontline of territorial defense  As COPINH, as the family of Berta, and as the international community, we are joining to demand that justice prevail, not just for Berta Caceres but for all the men and women who defend land and territory."
Alberto Saldamando, Indigenous Environmental Network: "The recent 2nd Global Witness report on the persecution and murder of environmental activists found that almost one half of the victims are Indigenous. The case of the assassination of Bertha Caceres, the impunity of the perpetrators recently was found to be at the highest level of the Honduran government and industry. They should be prosecuted."
Heather Milton-Lightening, Indigenous Climate Action: "We stand with and fully support Berta's family, community and social movement comrades in the  call for justice at the highest level. Understanding that Indigenous Peoples, particularly women and those in the broader gender spectrum are the greatest at risk of violence in Honduras. We know that death threats and intimidation are normalised through state and military oppression including private contractors. We call upon the states of globe to uphold human and Indigenous rights, to keep our frontline defenders safe."
Jaron Browne, Grassroots Global Justice Alliance: "There is a bill before the US Congress right now, HR1299, the Berta Cáceres Human Rights in Honduras Act, calling for a suspension of U.S. security aid to Honduras until human rights violations committed by the Honduran security forces cease. This new report from GAIPE only underscores the urgency of immediately halting US military aide.  As social movements inside the Unites States, Grassroots Global Justice Alliance is actively campaigning in support of this bill, and the international call for the arrest, trial and conviction of those who ordered and planned the murder of Berta Cáceres."
Ramon Cruz, Sierra Club International: "The Sierra Club stands in solidarity with all of the courageous environmental justice groups that are speaking out against impunity. Violence against those who defend nature is not only human rights violation, but a violation to nature itself. We call on international institutions and civil society groups the world over to keep these repressive governments accountable and demand that they bring all those implicated in Berta Caceres' murder and the murders of hundreds of other environmentalists around the world to justice."