A group, the Billital Moroobe Association of Nigeria (BILPAN), warned on Monday, November 20, 2017 that the anti-grazing law enacted in some states was a violation of the fundamental human rights of herdsmen.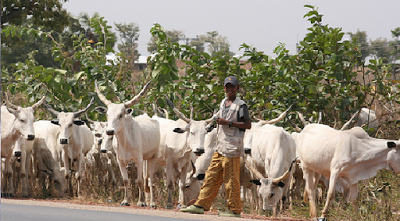 The group, which also call themselves Pastoralists, made the statement while speaking with newsmen in Dutse, Jigawa State.
The News Agency of Nigeria (NAN) reports that the position of the group comes amid out cries over the killing of hundreds of farmers by rampaging herdsmen nationwide.
The association described the anti-grazing stance of some states as infringing on herdsmen's rights and freedom of movement.
The National President of BILPAN, Alhaji Ali Rimindako, while inaugurating the Jigawa State Chapter of the body, called for an immediate reversal of the anti-grazing law in states that had enacted the law.
He argued that signing the anti-grazing bill into law by some governors had technically infringed on the fundamental rights of herdsmen.
Rimindako said that cattle breeders had no business other than rearing of animals and that preventing them from doing their business was against the principles of natural law, equity and good conscience.
According to him, BILPAN is not a body having only Fulani herdsmen but an association that has all cattle breeders as members.
The president said that BILPAN was a registered body, having members in many West African and Central African in countries, including Chad and Cameroon.
Rimindako said that the body had been assisting security agencies in fighting vices such as kidnapping, cattle rustling and armed robbery.
Also speaking, the Chairman of the Board of Trustees of the association, Alhaji Ya'u Malammadori, described BILPAN as a non-religious and non-political organisation.
He said that the goal of the body was to promote peace and harmony among the populace.
The new members of the body's new executive are Alhaji Adamu Saveyo, the state chairman and Alhaji Yamusa Muhammad, secretary.
Others are Hajiya Altine Dutse, the women leader. Members of the new executive are to serve on caretaker basis for two years.
By Abdullahi Shugaba