Full of giant trees, dense, mossy and mysterious, the Białowieża Forest in Poland has been described as one out of a fairy tale. It is said to be is one of the last remnants of the ancient forest that once covered half of Europe for millennia. The forest, which is home to a herd of 900 wild bison and straddles the border of Poland and Belarus, was declared a UNESCO World Heritage Site in 1979.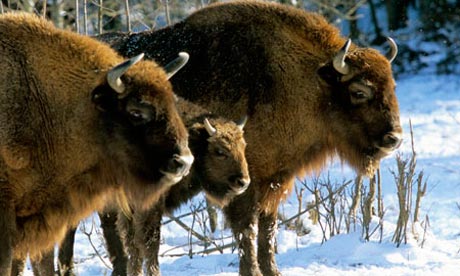 But there are concerns over the Polish government's handling of this legacy.
Loggers using heavy machinery are clear-cutting the forest, felling 150-year-old spruces and ignoring the breeding seasons of birds, scientists and campaigners allege.
"It infuriates me that some vandals, barbarians, can destroy the forest," notes biologist Tomasz Wesolowski. "I don't know when the breaking point will be…but with every cut we get closer to it. If we lose the forest, we lose it forever."
"Białowieża is a haven for biodiversity – unparalleled on this continent," says Jaroslaw Krogulec of Birdlife Poland.
According to conservationists, some180 bird species breed there, including three-toed woodpeckers and Eurasian pygmy owls. Lynx and elk are among the 59 mammal species. The forest is also the habitat of bison – the largest wild herd on the continent. Biologists are likewise fascinated by the multitude of mosses, lichens and fungi.
The Polish government, on its part, claims that logging is necessary to protect the forest from the bark beetle. Ecologists consider this to be a pretext, pointing out that they are a natural part of the forest ecosystem. The government's sole interest appears to be profiting from the sale of timber, they remarked, adding that logging has tripled since it changed Poland's forestry law.
The nationalist government has reportedly ignored warnings from the European Commission threatening to take it before the EU's Court of Justice. However, Polish environmental activists are standing up for the forest, chaining themselves to the logger's machinery and risking arrest.
The UNESCO World Heritage Committee on Wednesday, July 5, 2017 adopted a decision urging Poland to immediately halt all logging and wood extraction in the old-growth forests of Białowieża.
The International Union for the Conservation of Nature (IUCN) is expected to carry out a mission to assess whether the site's unique values, which include intact ecological processes, are at risk. Poland has been requested to submit a report on the conservation of the site by December 2018. Should danger to the site's Outstanding Universal Value be confirmed, Białowieża will be considered for inscription on the List of World Heritage in Danger in 2019.
"The old-growth forests of Białowieża are one of the main reasons why it was inscribed on the UNESCO World Heritage list," said Tim Badman, Director of IUCN's World Heritage Programme. "It is critically important – and a global responsibility – that the Outstanding Universal Value of this ancient forest be preserved for future generations. IUCN looks forward to engaging with Poland to carry out a monitoring mission to Białowieża, in order to assess the situation and identify and agreed adequate measures to conserve the site."
Poland has been undertaking wood extraction and logging in Białowieża Forest. The site, which is protected under the European Union's Natura 2000 initiative, was the subject of European Commission's announcement, in June 2016, of an infringement procedure against Poland, which noted that increased logging in Białowieża is likely to cause irreparable biodiversity loss.
In a recent letter, the Rainforest Rescue urges Polish, EU and UNESCO officials save the forest.
The letter reads in part:
To: Prime Minister Szydło, Environment Minister Szyszko, EU Environment Commissioner Vella, UNESCO World Heritage Centre Director Rössler
Dear Madame Prime Minister, Ladies and Gentlemen,
Białowieża is a priceless natural treasure. Its biodiversity is unparalleled in Europe, and ecologists and nature lovers praise its beauty in glowing tones. UNESCO declared parts of the forest to be a World Heritage Site in 1979.
It is therefore scandalous that Białowieża Forest is being clear-cut on a large scale. The loggers apparently do not even spare trees that are older than 150 years. The incomparable ecosystem, which encompasses ancient trees as well as deadwood and which provides habitat for numerous bird, mammal and insect species, is in acute danger.
Ecologists consider the argument that felling the trees is necessary to protect the forest against bark beetles to be a pretext.
Numerous scientists and conservationists from Poland and the rest of Europe oppose logging in Białowieża Forest and are committed to preserving it.
Please take responsibility for one of the last primeval forests of Europe and protect Białowieża.
Yours faithfully,