The National Drug Law Enforcement Agency (NDLEA) appears to be a major beneficiary of a set of reforms identified by a team of legislators as well as officials of international agencies to address drugs related crime in Nigeria.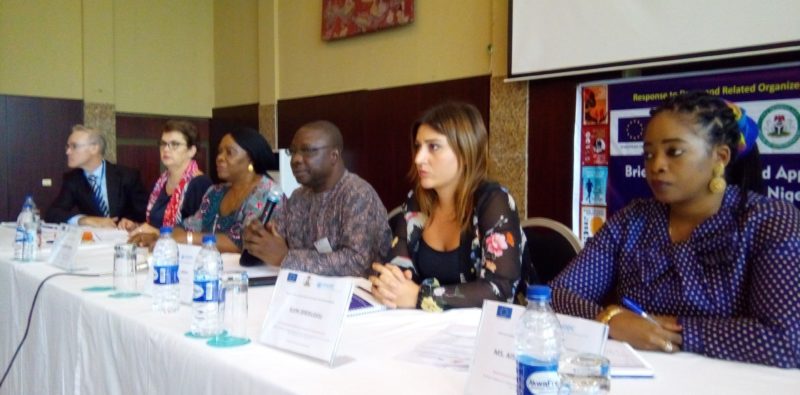 At the close of a three-day session (Tuesday, July 11 to Thursday July 13, 2017) in Uyo, capital of Akwa Ibom State, members of the Senate and House of Representatives Committees on Narcotics and Drugs, as well as representatives of the United Nations Office on Drugs and Crime (UNODC) and the European Union (EU) deliberated on response measures to drugs and related organised crime in the country at a forum themed: "Balanced, Evidence Based and Human Rights based Drug Control in line with the 3 UN Drug Control Convention."
The forum, initiated as part of the "Response to Drugs and Related Organised Crime in Nigeria", focused on various responses that the Senate and House of Representatives committees believe they can take forward in the coming months to strengthen a balanced approach to drug responses.
In line with the priority areas set out in the National Drug Control Master Plan (NDCMP) 2015-2018 for Nigeria, the two committees identified key action areas.
Firstly, it features Drug Law Enforcement, where they plan to strengthen the NDLEA as a professional institution through capacity building. In the light of the realisation that the agency is underfunded, the say funding should be the first line charge.
They also underlined the need for the NDLEA to raise its profile, essentially by increasing advocacy through print, broadcast and social media, as well as via a functional website. The legislators also highlighted enabling NDLEA to investigate drug trafficking and related crimes that involve money laundering.
Second, entails Drug Demand Reduction, where it is proposed that there will be sensitisation, awareness and education on drug issues especially to communities, families, professionals, government, religious leaders, traditional leaders and internally displaced persons (IDPs).
There will likewise be professional training that is continuous at treatment centres for drug counsellors, social workers, doctors, nurses and other professional staff.
Treatment will be expanded through establishing and maintaining treatment centres with a focus on drop-in-centres, community-based treatment, provision of continuity care (detox, counselling, rehabilitation, vocational training), women's specific centres, centres for IDPs and provision of vocational training.
Thirdly is Availability and Control of Narcotics and Psychotropic Substances, which will ensure that regular and adequate supply of appropriate and recommended opioid medicines are available in the country.
Besides standardising formulations of controlled drugs, the action areas also aims to regulate and control the required and recommended psychotropic substances and precursors.
"The Committees will continue to engage with various ministries and technical agencies of Government of Nigeria, discuss with Senate and House of Representatives Committees on Health, the Ministry of Budget and National Planning, the European Union as well as the United nations Office on Drugs and Crime to take forward Nigeria's response on drug control," said Senator Joshua Lidani, chairman of the Senate Committee on Narcotics and Drugs.
Funded by the EU, "Response to Drugs and Related Organised Crime in Nigeria" is being implemented by the UNODC to support Nigeria's efforts to tackle drug-related challenges using a multi-faceted approach. The project commenced at the start of 2013 and is scheduled to conclude at the end of 2019.