The aim of the recently held African Clean Up Conference was to march up with action the desires of the convener of the conference, African Clean Up Initiative, for Africans to begin to take responsibility in solving their environmental challenges in both indigenous and creative ways.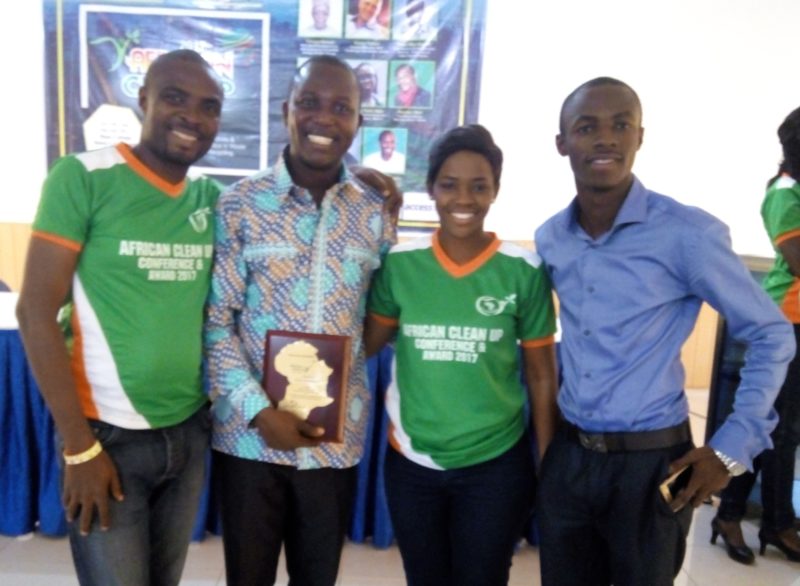 Held from Friday, July 8 to Saturday, July 9 2017, the forum was the second in the series.
Themed: "Exploring New Horizons and Sustainable Best Practice in Waste Management and Recycling", this year's conference was attended by delegates from West African countries as well as environmental professionals and intellectuals in Africa who took turns to road map the way to addressing waste management issues, particularly plastic and human waste.
According to the speakers, the problem of Africa is in her inability to manage the waste it produces, even though it does not produce more wastes than the developed countries. They thus proffered solutions that will help Africans best manage their waste and curb the menace caused by improper waste disposal.
Recycling was demonstrated as one of the ways of mitigating the impact of waste in Africa. Afolasade Nubi of the University of Lagos, in a paper titled "Solid Waste Recycling in an Academic Institution: Case Study – University of Lagos" noted how the institution moved from various stages of managing waste to the present recycling.
According to her, the institution no longer burns its waste unlike previously which caused health related issues in the school community. Sorting bins are now located across the school and residential areas which allows for source sorting and, upon collection, reduces the amount of waste that get to the land fill as waste paper, cans, and plastics are sold to recycling companies.
She added that, since 2014, the institution has made huge amount of money from sorting and recycling of waste as well as ensuring a cleaner and healthier school community.
Yahaya Ahmed, the Director/CEO of Developmental Association of Renewable Energy (DARE), revealed how he used plastic bottles to solve real issue of homelessness in the northern Nigeria.  According to the climate change expert, plastic bottles can be used to build homes in rural areas particularly devastated areas due to insurgency or climate change.
The plastic bottle brick, which was displayed during his presentation, is said to be stronger than the usual bricks. It is used in the construction of residential buildings, fence, sitting pavement and for trapping water for areas experiencing drought. The plastic bottle brick project, he added, provides jobs for the Almajaris in the area who now earn a decent living after being trained as masons as they now construct houses and wells using the plastic bricks. At the award night he was awarded a Hero of the Environment for solving homelessness with his plastic bottle housing project in rural areas in northern Nigeria.
Opening delegates' minds to new horizon in waste management, Issac Bryant of University of Cape Coast (UCC) in Ghana whose interest is in waste to energy technologies and resource recovery from waste, in his presentation discussed the conversion of human waste of urine to fertiliser. He noted and proved with pictorial proofs that human urine is good and better for growing crops than our usual manure. Moreso, he added, it reduces environmental hazards if urine is collected and used on the farm or garden other than unguarded disposal that negatively impacts the surrounding.
Femi Oye, Co-founder /CEO of SMEFUNDS, another Hero award recipient who doubled as a speaker during the conference, examined ways at which Africans can reduce their carbon footprint through clean cook stoves, solar powered bulbs and solar powered refrigerators. The clean cook stove, according to him, does not emit carbon because it burns on gel and not kerosene and the refrigerator is not only environmental friendly but cost effective.
Other speakers at the conference were: Kwame Ofori, the founding director, Ako Foundation; Simon Turner, Country manager, NGO Challenges Worldwide, Ghana; Joshua Amponsem, Executive Director, Africa Youth Organisation and Country host, ACCGhana2017; and Alexander Akhigbe, Founder, African Clean Up Initiative and Convener ACCGhana2017.
The two-day event ended with the award night ceremony that celebrated Africans whose environmental activities have impacted the African space.
"We have to keep encouraging our environmental champions to continue to drive towards environmental sustainability in Africa until we birth good policies and practices that best support living," Akhigbe said.
The following persons and institutions awarded at the event are:
Gov. Kashim Shettima of Borno State,  Alhaji Yahaya Ahmed (DARE), University of Lagos,  Edith O. Efiok-Offiong, Obinna Okenwa, Access Bank Plc, First City Monument Bank, Taiwo Adewole, Ama Ofori-Antwi, James Mulbah, Sulaiman Hussein Kemi, Ajadi Ganiyu Adedapo, and Dr Ameen Olayiwola.