Director of Climate Change Department in the Federal Ministry of Environment in Nigeria, Dr. Peter Tarfa, has urged Nigerian youths to see climate change as an opportunity for individual growth and national economic advancement.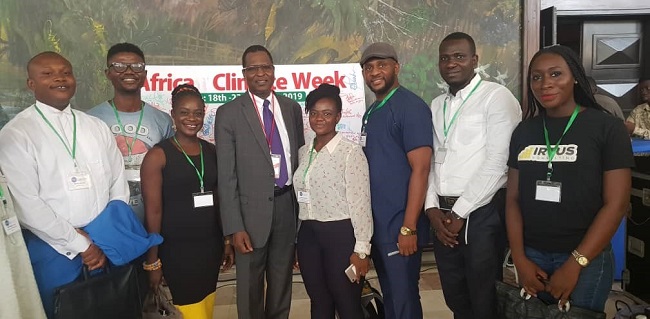 Dr. Tarfa made the call on Thursday, March 21, 2019, at the Accra International Conference Centre in Ghana when he met with some Nigerian youths' delegates attending the Africa Climate Week.
He said: "One thing I want Nigerian youths working in the area of climate change to do is to open their eyes to the many opportunities that surround climate change. Before now, we used to see climate change as a tragedy, a woe, and something to be scared about. Today, there are lots of opportunities that climate change has brought.
"As young people, you should begin to see how you can create jobs from climate change – in the area of renewable energy, solid waste management, writing, advocacy, creative expressions like literature, poem or music, just to push out the message of climate change."
Sighting an example, the director explained: "One major problem we have in Nigeria is deforestation. Most women in the local communities cook with firewood and some of them are dying because of the effects of smoke on their health. Young people can partner with private companies creating innovative clean cookstove solution. Those products can be sold to the huge market in Nigeria; that way, you make money and impact lives.
"I want to see Nigerian youths who have understood climate change to look out for opportunities like in the area of renewable sources of energy to provide power for the millions of people off-grid. Waste management is another big issue in Nigeria, single-use plastic recycling, architecture and many other aspects."
On the platform of the International Climate Change Development Initiative (ICCDI Africa), there are six youth delegates from Nigeria that attended the Africa Climate Week in Ghana, namely: Babatunde Enitan, Abiodun Adekoya, Rukayat Odebiyi, Moses Eboigbe, Prosper Egeonu and 'Seyifunmi Adebote.
The theme for the Africa Climate Week is "A Race We Can Win". The President of Ghana, Nana Akufo-Addo; UN Climate Change Deputy Executive Secretary, Ovais Sarmad; COP24 President, Michał Kurtyka; among many others were present at the High-level opening event on Wednesday, March 20, 2019.
By 'Seyifunmi Adebote, Accra, Ghana